La Verne Business Students Link Theory and Practice to Charity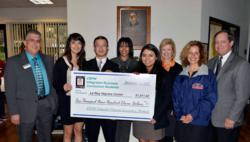 (PRWEB) December 17, 2012
With University of La Vernes mission towards civic engagement in mind, eight business students donated nearly $ 2,000 to the LeRoy Haynes Center(LHC) in La Verne on Dec. 12th funding they have earned through their own entrepreneurship efforts.
Our motivation was the kids, said La Verne Junior Blanca Mireles, Vice President of Operations and Production for LV Tech Designs, the company that designed, marketed, manufactured and sold different-sized laptop sleeves, bearing the universitys name. These sleeves were then sold by the students at different university campuses and functions.
The task was part of a combined four-class undergraduate block that included finance, marketing, management and an experiential course. LV Tech Designs, as they branded themselves, brought in nearly $ 2,000, almost twice as much as the previous student team did. Students were instructed to take business theory and practice and put it into action by creating their own company.
The project brings to life all the material that the students study in the integrated class, said Dean for the College of Business and Public Management, Dr. Abe Helou. It also goes beyond teaching students to work only to make a profit. We want our students to become responsible citizens by sharing their hard work with the less fortunate as well.
According to Assistant Professor of Marketing, Dr. Susan Caple, students had to come up with a business concept, assess its viability, develop a business plan, present their plan to a banker, secure the funding, find a source to manufacture the product, sell the product and donate the revenue to a charity of their choice.
LV Tech Designs chose The LHC as the donation recipient for their profits. The center is a La Verne non-profit organization that serves more than 450 boys and girls of all ages and their families through programs that include: Non-Public School, Residential Treatment, Mental Health Services and Community Outreach.
Our biggest challenge was not having enough time to create a product, Mireles said. It took us two to three weeks to come up with the idea of computer sleeves. She added that they had other ideas in mind but they would have needed at least six months to finalize them.
After identifying strengths and weaknesses, LV Tech came up with roles and titles for their team, all made up of junior and senior students. Karina Balmaceda acted as the President, Alicia Chhan was the Manager of Inventory & Logistics, Blanca Mireles was the Vice President of Operations and

Production, Jonathan Truong was the Manager for Campus Sales, Brianna Martinelli was the Vice President of Public Relations, Brenda Perez was the Vice President of Finance, Raul Rodriguez was the Vice President of Sales and Jonathan Agee was the Manager of Online Sales.
Ive learned so much from this program. I got more experience from doing this project than from reading books, Mireles said. I dont think that a lot of students can say, I started my own company when I was in college, we made a profit and donated it to a good cause.
A check was presented to the LHC with the student participants and La Verne President Devorah Lieberman.
Nothing is more inspiring than seeing our students take what they learn in the classroom and apply it to real life, said President Lieberman. Our goal is for our graduates to take their skills and become successful global citizens, but also to remember to stay connected by helping their communities. This project is an excellent reflection of the University of La Vernes efforts.