InsuranceFixIt Predicts Future of Business Insurance for 2013 and Beyond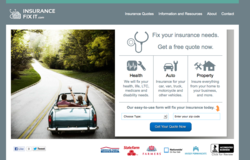 Baltimore, MD (PRWEB) January 02, 2013
InsuranceFixIt has released a new article which reveals many of the business insurance changes that corporations and small businesses must be concerned with in 2013 and beyond.
Business insurance protects companies and small businesses against risks that may arise, whether it be fire, accident or computer related malfunctions. According to the article, most small businesses and corporations do not have adequate business and liability insurance coverage and they are not aware of the many of the current options available.
Changes in the economy and in legislation have created new issues that businesses should be concerned within as they enter into 2013 and beyond.
"The underwriting for business insurance policies will be a lot more stringent and costly, mostly due to the slow growth in the US as well as the economic uncertainty of Europe," said Michele Postler, Senior Editor for InsuranceFixit.com
Recent Trends for Business Insurance include:

The impact that local and international economies have on business insurance.
New concerns for home based businesses
The impact that technology has on business insurance.
The types of coverage now available for business insurance.
Customization of policies increasing as information becomes more available.
To find out more about InsuranceFixIt and the wide variety of resources for business insurance, please visit: http://InsuranceFixIt.com/business/
About InsuranceFixIt
InsuranceFixIt.com provides business insurance quotes required for commercial property, liability, stop gap, business interruption, and commercial auto insurance. InsuranceFixIt.com features a variety of articles and resources for small business and corporate insurance policies. InsuranceFixIt.com is a member of PRprofile, a website dedicated to helping businesses build a publicity presence online. For more information about InsuranceFixIt, please visit: http://InsuranceFixIt.com/