Home Security Store Adds Network Video Recorders to its Surveillance System Offerings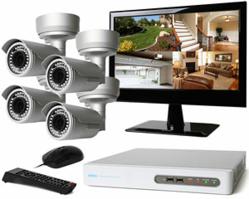 Riverside, CA (PRWEB) December 20, 2012
Within the Surveillance section of their ecommerce site, Home Security Store now showcases their network video recorders (NVRs) alongside their extensive line of digital video recorders (DVRs). Offering plug-n-play technology, the new line of NVRs feature up to eight security channels and include either four dome or bullet styled IP cameras, enabling the end user to view live video footage remotely via any web-enabled device. Home Security Stores network video recorder kits are offered at competitive prices and are designed to operate over a home or businesses existing wireless network.
As the home security retailer is known for providing do-it-yourself home security devices, Sales Manager, Ruben Cervantes touts that this new line of network video recorders are easy to install and use. When it comes down to installations, it will be like using an actual DVD player — .just plug the unit up. It may take a bit of time to learn about the functions of the NVR, though, just like any electronic item you purchase. You know how things can get when you deal with a new toy. Beyond commenting about the small learning curve needed to master operation of an NVRs features, Cervantes further relayed that the surveillance and recording quality of network video recorders are virtually indistinguishable from that of digital video recorders.
When asked to note how customers should best make a purchasing decision between the two technologies, Cervantes stated, The main difference is if a customer is wanting to use an IP camera for recording. A normal DVR uses analog cameras, which are normal Coax cable cameras. IP cameras use a Cat5e cable. Some people call them Ethernet cable. Home Security Stores website elaborates further by sharing that another primary difference between network video recorders and digital video recorders is that a DVR uses a video capture card for video input while an NVR relies upon a homes existing network.
Currently, Home Security Store offers four separate network video recorder kit options in addition to a number of other individual cameras and accessories that can be added to any of the NVR systems offered on their site. Of their two 4-channel kits, one includes four IP indoor dome cameras and a second kit offers four IP bullet cameras, each with a varifocal lens. Homeowners also have an option of purchasing an 8-channel system as two separate kits are also featured in this category with the same camera offerings as the 4-channel kits. Cameras made by other manufacturers can also be added to each NVR system.
The companys website shares that these same quality network video recorders are used for surveillance in larger institutional settings, such as schools and maximum security prisons. Home Security Store maintains, however, that NVRs are not overly complicated and can even be remotely monitored via personal computers as well as through the use of an application for smartphone devices, which is automatically included with each new NVR kit. Marketing Manager Annie Blanco maintains that some home or business owners may erroneously believe that the level of surveillance offered with network video recorders comes with a hefty price tag or may involve a complicated installation process, but she goes on to say that, Nothing could be further from the truth. According to Blanco, the network video recorders sold at Home Security Store are both affordable, considering the high-end technology the end-user is getting, and the systems are fairly easy to install.
As with other surveillance and security products offered at Home Security Store, network video recorders come with a 12-month warranty and a full 30-day guarantee in addition to technical product and installation support. Customers are encouraged to offer feedback and reviews on each product purchased with this information being shared directly with future consumers as ratings are featured in every product description. Free shipping is also available for each of the new NVR kits currently featured at Home Security Store.
About Home Security Store, Inc.
Home Security Store is the premiere online ecommerce website specializing in affordable DIY wireless and hardwired home alarms, security camera systems, fire protection, spy equipment, survival gear, and more. The company brings together highly-trained, professional technicians and a state-of-the-art product line to provide the most comprehensive security source found online. Home Security Stores website offers a number of video tutorials, how-to articles and security-related blog posts. The company also offers free and fast shipping, plus free tech support. For more information go to http://www.homesecuritystore.com.
More Tech Press Releases