Georgia Tech Recognizes Need for Multilingual Communication with International Student Population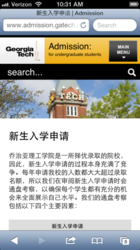 Atlanta, GA. (PRWEB) December 04, 2012
TrueLanguage, a leading provider of professional localization and translation services, today announced that Atlanta-based Georgia Institute of Technology (Georgia Tech), one of the nations top research universities with more than 21,500 undergraduate and graduate students, has introduced Spanish and Chinese (simplified) admissions and application pages to its website. This change will help the university improve communication with its existing and prospective international students.
The web pages also can be accessed via a mobile web browser to accommodate rapidly increasing smart phone adoption and usage, particularly among younger generations.
In an effort to address the needs of its international student body and to recruit more foreign students, Georgia Tech recognized the need to provide critical admissions information to Chinese and Spanish speaking audiences in their own language for the first time, said Uli Dendy, CEO for TrueLanguage. This is the first step in taking Georgia Techs communications strategy with prospective students to a global level and we are excited to have played a role."
Each year, Georgia Tech receives a vast number of applications from countries across the globe. In 2012, 14 percent of the incoming freshman population was from outside of the U.S. Of these, more than 30 percent were Asian and nearly 8 percent Hispanic. To ease the application process for international students and make the university more attractive to potential students from other countries, it was important for Georgia Tech to invest in high-quality, professional translation in order to most effectively reach a truly global applicant population.
Partnering with TrueLanguage, Georgia Tech developed admissions pages in the two of the most widely spoken languages Chinese and Spanish. TrueLanguage managed the technical implementation and translation into both languages.
Based in Atlanta, TrueLanguage is a full-service professional localization company that provides cost-effective translation, interpretation and localization services based on each clients specific needs. TrueLanguage offers clients a strong combination of professional language experts, centralized project management and outstanding customer service to ensure accurate, compatible, reliable and authentic translation and interpretation in more than 60 languages worldwide. For more information on TrueLanguage and its worldwide localization services, visit http://www.truelanguage.com or contact the firm at info@truelanguage.com or 770-850-1205.