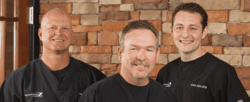 Fort Worth, TX (PRWEB) December 29, 2012
Fort Worth Dental's Dr. Terry M. Zang, Dr. Arthur J. Mund, and Dr. Justin Mund provide patients with the solutions they are looking for to get straighter teeth. When a patient desires a discreet method for straightening teeth, the Invisalign procedure is often the dental procedure of choice. The dentist can offer the treatment to patients of practically any age who wish to forego the traditional metal braces. The process requires customized plastic trays that are worn daily and adjusted and replaced regularly.
Most people are not born with teeth that will remain perfectly straight throughout their lives. While many people choose the traditional metal braces, the Invisalign procedure gives patients another option for getting straight teeth. The plastic aligner trays are very discreet and many people do not even notice when someone is wearing them.
The Invisalign dental procedure begins by having the dentist or an assistant take x-rays and impressions of the teeth. From them, a three dimensional model is created on the computer and is used to determine a treatment plan for the patient. A set of clear plastic aligner trays is molded to fit the patient's teeth. The trays are designed to be worn night and day, but can easily be removed when the patients eats or needs to clean their teeth and the trays.
Every two weeks the patient returns for a new set of dental trays. These trays have been tweaked slightly from the previous set to help gently guide the teeth into the proper position. The patient meets with the dentist every six to eight weeks to make sure that the teeth are moving according to plan and to make any adjustments that are necessary. The entire treatment often takes about a year to complete, and should be overseen by a trained Invisalign dentist. More information on the procedure can be found by visiting http://www.fortworthdental.com.
Fort Worth Dental is a general practice offering patients personalized dental care for Fort Worth, TX. Dr. Terry M. Zang, Dr. Arthur J. Mund and Dr. Justin Mund are all dedicated to their dental practice, which offers the recent FDA cleared laser procedure for gum disease and periodontal treatment. Focused on preventative, restorative and cosmetic dentistry, they each have unique attributes for the practice. To learn more about Fort Worth Dental and their dental services visit their website at http://www.fortworthdental.com.