Forest Hills, NY Local Chapter Hosted Leah Chase, Personal Shopper and Coach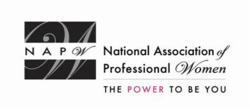 Garden City, NY (PRWEB) November 13, 2012
Members and guests of the NAPW Forest Hills, NY Local Chapter met for a professional networking meeting on October 24th at Biu Bella. While enjoying wonderful brick oven pizza, season salad, and a chicken platter, attendees embarked on a networking session. They then received expert tips from Leah Chase, Founder and President of Excelsior You, on how to transform themselves, and consequently, change the way they are seen by others.
Using her 20 years experience as a Personal Shopper and Coach, Leah expertly showed the women how they could create a look that is fashionable and comfortable by making simple yet significant wardrobe changes.
Leahs presentation was engaging and very positive. She made it clear that creating our own personal style is important because how we see ourselves is how we present ourselves to the world, said Forest Hills Chapter President Anjali Chugh.
Leah began her presentation by asking members and guests if they knew what their personal style is (some did, some did not) and suggested that the women identify their signature style and then get a little creative with it. She also noted that a persons signature style tends to change as she gets older.
Some notable fashion tips from Leah included: