East Allen Township Volunteer Ambulance (Northampton, PA) Announces Switching to Aladtecs EMS Manager – Improves Regulation Reporting Capabilities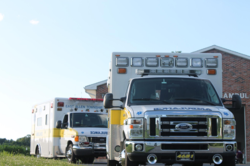 Allentown, PA (PRWEB) January 17, 2013
In an effort to find a better scheduling system for their volunteer based ambulance service, a casual Google search landed Matt Morrow on EMS Managers website. Morrow, Assistant Captain with the East Allen Township Volunteer Ambulance Corps, indicates they outgrew the scheduling system they had been using for many years because it was simply too limiting.
We selected EMS Manager because it has a number of features we were looking for that our previous scheduling program didnt have. Features like sending an email, or text, with the one-click Find Coverage option, personnel certification tracking, and a mobile web application, explains Morrow. Another feature we use frequently is the "Reports" section. The ability to generate custom reports is invaluable for our internal record keeping and regulation requirements. This allows us to track how involved each volunteer is in our organization.
The roster at East Allen Township Volunteer Ambulance has over 40 members from all walks of life…including business people, entrepreneurs and professional EMS personnel who help out during their time off. These volunteers rely on EMS Managers mobile web app because they all have other jobs and they need to be able to utilize the system remotely at anytime and from anywhere.
We do a lot of scheduling on the go and while we are at our "normal jobs. Most administrators, and most users, use smart phones to access EMS Manager. Weve also found the system is easy to use, especially for those who are just now joining the computer age, adds Morrow. Unlike most paid services, as a volunteer company we are not able to staff more than a few days into the future. This system works great for that situation and for the constant changes we make.
Volunteer services often have restricted budgets, so an affordable annual subscription to an online software program like EMS Manager is easier to get approved, and has a faster return on investment.
We rate things price-wise, based on "how many calls will it take to pay for any expenditure. In our case, with just a few routine calls EMS Manager has paid for itself for the entire year, states Morrow. It really does give us the most program for our money and we know it will accommodate us as we continue to grow and as regulations continue to change.
East Allen Township is a small rural area encompassing 14.5 square miles, consisting primarily of farms and small towns in eastern Pennsylvania near Allentown. Their volunteer ambulance service currently serves approximately 5,000 residents. They are also frequently called for mutual aid by their highly populated neighboring communities.
Aladtec, Inc. is a proud provider of web-based software solutions for online employee scheduling and workforce management applications. The companys flagship products, EMS Manager and FIRE Manager, are leaders in the public safety sector. Together with their newest product, Zanager, they serve over 900 EMS agencies, fire departments, police departments and other businesses. Over 55,000 employees use Aladtecs online employee scheduling and workforce management products. Aladtec is headquartered just outside the Minneapolis/St. Paul metro area in Hudson, Wisconsin. For more information, visit http://www.aladtec.com.
# # #
CONTACT INFORMATION:
Aladtec, Inc.

906 Dominion Drive

Hudson, WI 54016-4538

(888) 749-5550 Toll-Free

(715) 690-2300 Phone

(801) 406-5550 Fax

mellissa(at)aladtec(dot)com

info(at)aladtec(dot)com | http://www.aladtec.com
Find More Computer Press Releases