e-fense Announces the Newest Version of the World Celebrated Live Acquisition Tool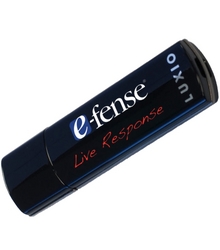 Denver, CO (PRWEB) July 27, 2009
Today at a meeting with various media outlets, e-fense announced the release of its highly anticipated version update to the renowned product, Live Response. Live Response is the amazing live forensics acquisition and collection tool that rests on a USB thumb drive. It is the only live forensics USB key with such an extensive feature set in the world today. It is already used by hundreds of clients in law enforcement and business. Live Response allows law enforcement, government and corporate customers to acquire data from a running system quickly. Even personnel untrained in computer forensics can acquire Internet history, RAM, images, and other digital evidence with a few simple clicks. The user simply inserts the pre-configured USB key into the target system, tells the application to start and the data is transferred onto the key within minutes.
Live Response and its sister product Aperio, have been in the market place for over a year. The products have received rave reviews from all who have used or analyzed it including; journalist, computer forensics experts, law enforcement officers, and information security personnel. This latest Live Response and Aperio release includes many new features that now ensure the software is easier than ever to use. It also includes even more robust features for investigators with forensics training. From experts to the computer novice, anyone can insert and gather the live data as required, e-fense has created a solution for all.
CEO, Steve Bederman, spoke about the ease of use, "You definitely do not have to be an expert in using computers to collect data with Live Response. Almost anyone can insert a USB key and click a prompt." Bederman chided, "Once I realized that I even could handle it, I knew we had a winner that could be marketed to a wide range of customer profiles." Live Response can be applied to a wide range of applications. The law enforcement community has used Live Response to collect data quickly without an onsite forensic expert. Officers are armed with Live Response, prepared to conduct investigations immediately whenever necessary. The business community has found Live Response to be a vital tool for incident response. During this economic downturn theft in the business place is becoming more prevalent and companies need to respond immediately. Companies can use Live Response to collect data from the target or suspect computer while using anyone that is onsite to do the capture. They then submit the USB key to the proper personnel for analysis and then report on that incident.
"We have been to several events this year where Live Response was the highlight and the reaction was awe-inspiring. Law Enforcement is learning about the ability to quickly acquire data that may make or break a case. Businesses are now aware that they can use law enforcement ready type tools to secure their business. Once we put it into almost anyone's hands they immediately want it," said Lauren LaFortuna, Managing Director at e-fense.
Drew Fahey, CTO at e-fense stated "We have received tremendous feedback on Live Response and have made this already great tool even better. It is satisfying to have designed a product that is so widely accepted."
e-fense is headquartered in Colorado with offices in Washington DC and England. e-fense was founded in 2000 by a team of computer forensic, incident response and counter intelligence experts. Product lines include Helix3, Helix3 Enterprise, Live Response and Aperio (worldwide patents pending). e-fense is a world leader in products serving a wide range of clients including federal, state and local law enforcement agencies as well as leading private sector security, legal and information technology professionals around the world.
# # #
More Ram Press Releases