Chicago Start-up, Clandestine Development, Gives Back This Holiday Season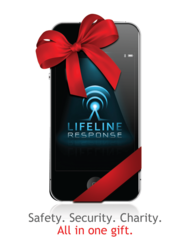 (PRWEB) December 12, 2012
This holiday season, Chicago tech start-up Clandestine Development is giving back through their Gift App and Give Back campaign. Clandestine Development has partnered with RAINN, Take Back the Night, 1 In 6, PAVE and SAFER Campus to promote the companys new personal safety mobile app, LifeLine Response, and to raise awareness for sexual violence.
During the month of December, Clandestine Development will give $ 1 for every LifeLine Response app purchased to one of the above organizations. A vote will be taken to determine which organization will be the recipient of this holiday donation. Anyone can vote online at llresponse.com. We encourage people to Gift LifeLine Response to a loved one and then Give Back by voting for their favorite organization. Voting closes at 11:59 p.m. on December 31st.
Peter Cahill, Founder of LifeLine Response, said, When it comes down to it, our goal for LifeLine Response is to make the world a safer place. RAINN, Take Back the Night, 1 In 6, PAVE and SAFER Campus share this goal. We think they do phenomenal work, and we want to help them to continue fighting sexual violence.
One in four college women is the victim of rape or attempted rape, said Take Back the Nights Executive Director, Katherine Koestner. "The Take Back The Night Foundation is delighted to have the support of LifeLine Response in our campaign to end sexual violence in all forms. When we know that we have help when we need it, we are all more confident.
LifeLine Response is now available at $ 21.99 for an annual subscription. LifeLine Response is available in the United States from Apples App Store and Google Play, or by visiting: http://www.LLResponse.com. Also, visit the website for more information about the product, including videos and screenshots.
I am thrilled that LifeLine Response is giving back to the community and working with us to shatter the silence of sexual violence, said Angela Rose, Founder of PAVE.