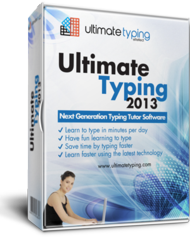 New York City, NY (PRWEB) December 24, 2012
Children born in the 21st century have come into a world where computers are used for everything. Computer games teach 4-year-olds their letters and numbers, and even primary school children are often required to use the computer for their homework. Because of this, a 21st-century typing tutorial program needs to be able to teach better typing skills to anyone, both children and adults alike.
This is one of the specific design goals that the developers of Ultimate Typing software aimed for, keeping in mind that typing faster is a valuable skill set that can benefit people of all ages. With over 220 scientifically designed lessons, as well as the 600-plus practice exercises and games, there is something for everyone in this typing software.
Making the exercises varied is only one of the many important steps that the makers of Ultimate Typing have taken to ensure optimal results for the users. Holding the user's interest during lessons is one of the most important factors in kind of tutorial program. Since Ultimate Typing was designed to be versatile, and to keep people interested no matter their age, the developers deliberately provided a lot of options for creativity and personalization in the learning process. They also incorporated fun games and reading materials suitable for children as well as adults.
Since Ultimate Typing is easily used by both children and adults alike, it's obvious that Ultimate Typing is software that can definitely be enjoyed by the entire family. Friendly competition among brothers and sisters might even add to the interest, and the element of speed has always been key to many kinds of contests children enjoy.
Since the program has a multi-user capacity, each family member can easily open their own individual account. The progress tracking is done by user, with helpful graphs and charts showing individual progress on speed and accuracy as well as finger dexterity.
For both adults and children, effective learning can be as simple as making an educational activity fun and entertaining to keep the learners interested and motivated. With so many options available with Ultimate Typing, effective learning is guaranteed, and all that's necessary is regular practice to improve typing skills.
For more information about the Ultimate Typing software, visit http://www.ultimatetyping.com/.
About Ultimate Typing
Ultimate Typing Software is a tutorial program designed specifically for the improvement of typing skills. It was created by eReflect, a world leader in e-learning and self development software.
Since its creation in 2006 by its director, Marc Slater, the company has already catered to over 112 countries all over the world, offering products with the latest cutting-edge technology, some of which are among the worlds most recognized and awarded in the industry.