Author Richard Bingy Brown returns to the literary world with his gripping work of fiction, Double Standards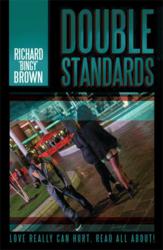 United Kingdom (PRWEB) January 19, 2013
Richard Bingy Brown, author of the action thriller Living the Dream, returns to the literary world with the new novel, Double Standards. In this gripping work of fiction, he invites readers to examine the complexity of human relationships in light of the experiences of a group of people bound and broken by love and lust, betrayal, murder, loyalty, desire and deception.
At the center of this intricate fable that sizzles with sex and Browns signature blend of fact and fiction, are men and women who dare to examine the deepest chambers of the heart and psyche. There is strong-willed, 29-year-old Soneyah; the feisty Sylvia; Shevaughn, whose love and devotion to her husband did not spare her 10-year marriage from the pain of infidelity; Asia, a 24-year old single mother of three and Rosemary, whose adolescence marred by sexual abuse makes it almost impossible for her to trust men. These women are uniquely different but they are bound to one another by their negative experiences with men and their determination to give their male counterparts a taste of their own medicine.
On another layer of the story are four men, Rayman, Luke, Knuckles and Hives, who will not let anything get in the way of their faithlessness and womanizing- even their own partners. The end of their odyssey of discovery will reveal to each character unexpected destinies and a stunning truth about themselves and those they love.
Witty, sharp and thoroughly engaging, Double Standards is a searing story of life peopled by broken yet real souls on the road to discovering redemption and what it truly means to love.
For more information on this book, interested parties may log on to http://www.XlibrisPublishing.co.uk.
About the Author

Richard Bingy Brown had been self employed for many years. He has been involved in various businesses such as clothing retail and concert promotions, and a Caribbean restaurant and night club owner, among other things. He discovered his passion for writing as a young teenager, writing poems and then songs which he performed on his sound system under the moniker Bingy.
While serving a prison sentence from 2001 to 2007, he studied continuously and achieved top level qualifications in computers, business studies, black history, psychology, journalism and teaching.
After completing a creative writing course, he decided to write a fictional novel based on his own true life experience resulting in his first novel Living The Dream. Now 48, he finds himself harnessing many exciting ideas for future novels. As well as managing a promising reggae dancehall artiste, he is now writing full time and hopes to become a bestselling author.
Double Standards * by Richard Bingy Brown

Publication Date: December 26, 2012

Trade Paperback;