Author James Williamsons First Book, Senpai: The Tale of the Gallant Dandelion Now Available for the Amazon Kindle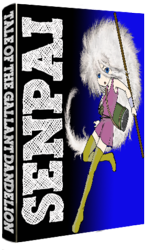 London, UK (PRWEB) December 22, 2012
Start-up publisher Colossi Ltd. and author James Williamson have just released the first instalment of Williamsons new book, Senpai: The Tale of the Gallant Dandelion, which is now available on Amazon Kindle, and on smartphones and computers via the free Kindle app, or free Amazon Cloud in-browser reading.
The book is a re-imagining of a Japanese folk tale but with western appeal. Each section of the book is being released serially in quarterly instalments and this first instalment is the prologue, three chapters and accompanying illustrations. The next instalment is due out on January 31st, 2013. Williamson has created a magical tale of self-discovery and of finding the courage to live ones dreams even through devastating loss, which is mirrored somewhat in both his characters and own personal journey.
Senpai: The Tale of the Gallant Dandelion tells the story of Senpai, an orphaned girl and young Shinobi in training who begins a journey to find her legendary father after receiving a clue to his whereabouts from her mother. Her father is a legendary folk hero named Jiraiya, popularized and re-imagined most recently by the Naruto Franchise. During Senpais journey to locate him, Senpai travels through a world of Japanese myth and legend and in the end discovers that she was meant for much more than anyone ever anticipated.
James Williamson is very connected to this theme of struggling through loss to reach goals because Senpai comes just after the depression of his fathers death. For Williamson, his father was his greatest motivator, confidante and friend who provided years of encouragement as James forged ahead with his desire to write screenplays. Williamson's dream actually started to gain momentum in 2005, when he travelled to Los Angeles and pitched his work to numerous reputable agencies and studios in the entertainment industry. Upon his return to the UK with a host of positive avenues to pursue, James was awake at still writing at 4AM, when his father came downstairs and suffered an aneurysm in the kitchen.
Within a matter of hours after getting to the hospital my father couldn't actually recognize me any more he thought that I was my older brother. It was very surreal.
By the time the hospital worked out it was an aneurysm, James father was in a coma and being kept alive by machines. His father was raced to the National Hospital for Neurology, in London, and into the operating theatre. Months of unconsciousness and intensive care took an awful toll on both his father and his family, who opted to care for him at home when he was able to be discharged in 2006. James father then suffered two battles with recurring throat cancers and passed away in January 2007.
Williamsons writing went from an average of five pages a day to zero, almost overnight. When his confidence completely collapsed, James took his fathers final request — to look after and provide for their family — to heart. He secured a reasonable job that covered the family bills, but inside James was secretly devastated that he was no longer able to pursue what he loved doing with the same fervour.
Over the next few years, Williamson sunk into a quiet depression. As the 2008 banking crises escalated for people around him, James was wholly cold and unresponsive to it, and it seemed to give him the perfect cover to not admit his real feelings.
Everyone around me was glum and downtrodden because of the banking crises. It was very easy to blend in and not have to answer to anyone about my problems or why I seemed so down. And to be honest, at the time I never really knew I actually was depressed. Its only when you get out the other side that you can look back and identify that something was actually wrong.
One day though, Williamson reached the end of his tether, and it was in this moment that he fully realized the nature of his father's request. His main motivator and constant encourager would not have wanted him to give up on his dreams and he then started the long and infuriating journey of reawakening his imagination, which led to Senpai.
With a new-found yet shaky confidence in himself, the key people that James needed seemingly aligned along the way, Williamson was able to build his confidence from the ground up again and now celebrates the release of his first major work, a powerful character and story that is destined to find a home in the hearts of many readers. Almost every page emits the kind of insightful narrative that can be imagined by anyone, but is deeply understood by someone who has lived through such hardships and personal loss themselves.
The next phase of Williamson's life and writing career is ahead of him once more. And James is open to whatever might come.
I am extremely proud of what I've achieved up until this point. Anything beyond here is merely extra. I will not rest until the story of Senpai is finished, and at the moment, we have six books outlined. After that, in 2015/16, who knows, I may take some time off and see whether another character and compelling story comes through me. And also I want to help others also live their dream of publishing.
Williamson is proud to dedicate Senpai: The Tale of the Gallant Dandelion to his father and those interested in learning more about Williamson and Senpai can visit his website. Those who want to purchase the first instalment of this magical book can find it on Amazon.com. The book is available even for those who dont have a Kindle as Amazon has released a Kindle app for the iPad, iPhone, iPod, Blackberry, PC and Mac, and can even be read in-browser. Senpai, Tale of the Gallant Dandelion is edited by Morissa Schwartz and illustrated by Kathryn Lopez.
# # #
Related Computer Press Releases