Assemble Systems, BIM Software Developer, Announces Visualization Hardware Give-Away at Autodesk University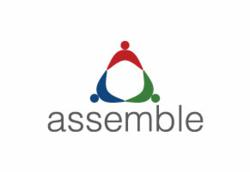 Houston, Texas (PRWEB) November 06, 2012
Just weeks away from Autodesk University 2012, the nations leading conference on BIM best practices, Assemble Systems, a leading SaaS (Software as a Service)BIM software developer and AU Silver Sponsor, announces a unique promotion. Assemble Systems is offering a one-time-only opportunity for AU attendees to win their own environmental BIM visualization hardware.
Called a BIM C.A.V.E. (computer-aided virtual environment, a phrase coined by the Texas A&M University school of construction management), the technology consists of a high-powered graphic workstation and multiple, large-format screens. This suite of hardware can be mounted in a board room, construction trailer, or design pin-up space. The BIM C.A.V.E. provides design and construction teams a direct way to visualize building information. During coordination meetings, teams are able to view details at a scale far greater than on a typical monitor, gaining insight to optimize the delivery process.
We are excited to have this opportunity to connect with more experts in the BIM space, says Assemble Systems VP of Development Trent Miskelly. Our clients who are immersed in a full-scale virtual BIM environment are able to collaborate more effectively. Ultimately, they deliver a better building project.
The BIM C.A.V.E. will be on display in exhibit space 528 for the entire duration of the AU exhibit hall schedule. Entrants must register to participate and must be present to win. A random drawing will be held on the final day of Autodesk University to determine the winner. For more details, email info(at)assemblesystems(dot)com.
About Assemble Systems

Assemble Systems is a SaaS (Software as a Service) BIM software developer transforming information management for the architecture, engineering, and construction (AEC) industry. The team is made up of professionals from both the technology industry and the design and construction industry who are passionate about helping firms streamline their BIM processes to deliver more successful projects. Visit http://www.assemblesystems.com for more information.