A PC So Tough It Should Have Been Born in Texas, a Flatmate for Geeks, & the Twist Revived: Parts-People Releases Fun Tech Articles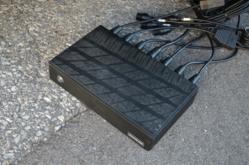 Austin, Texas (PRWEB) December 20, 2012
Parts-People.com is making "Geek" fun with things that make people say "Wow", as it publishes entertaining Tech News Articles by Paul B. Wordman spanning three tongue-in-cheek subjects.
One of those smile-provoking Technology Articles focuses on a computer tough enough to survive "a close encounter of the pickup truck kind", and manages to quote a popular newcomer's bumper-sticker which simply says: I wasnt born in Texas, but I got here as soon as I could. That article replaces the usual specifications table with a list of "Toughications & Features".
Another fun-inducing article posted on Parts-People.com covers a "Flatmate" that helps geeks stuff it when uptight and short of space. The article explains that this is a "Flatmate" that never complains when told to stay out of the way, stand straight, and keep its back against the wall.
Yet another humor-generating Technology News Article on the Parts-People website discusses how two convertible laptop-tablets "Revive a Classic Dance: The Twist," with their "Urge to Merge." The article's Assessment sums up the "State of the Union" with the observation that: "Convergence by any other name would still be a primary technology trend."
About Parts-People.com
The online store at Parts-People.com provides refurbished laptops for buyers who prefer a familiar operating system (OS) on hardware with a demonstrated package of drivers.
The company is continually increasing parts inventory of wholesale Dell laptop parts in Austins growing technology hub. Parts-People.com now stocks more than 250,000 notebook replacement parts physically in-house, on-site, and ready to ship the same business day.
The Parts-People.com web-site delivers technology information services including a news section covering the latest Gadgets & Peripherals, as part of its online comprehensive knowledge-base resource center. Some of those technology news articles have the goal of making geek fun, with things that make people say wow.
Parts-People's Director of Social Media, Roscoe Dyer, produces online tutorial, do-it-yourself, how-to-repair laptop videos, and Dell laptop repair manuals which are updated on a daily basis.
The Parts-People website serves a large number of businesses, school districts, government agencies, non-profits, and individual consumers that cannot, or will not make eBay purchases for various reasons. The technical staff is a team of experts trained to work only on Dell products; a significant reason that individuals and organizations order replacement parts or ship their laptops to Parts-People, from all over the world, for service or repair.
Established in 2002 as a start-up, entrepreneurial, family-owned business, the companys rapid growth in 2003 became the incentive to consolidate operations in 14,000 square-feet of mixed retail, warehouse, and office space.
Parts-People.com now stocks more than a quarter of a million Dell laptop parts, and operates an online store which provides one of the largest selections of Dell replacement parts on the internet.
The growth of Parts-People.com is bolstered by its location in Austin, which is known world-wide as a technology hub. The area is also home to offices of companies such as: AMD, Apple, Cirrus Logic, Dell, Evernote, Facebook, Freescale, Google, HP, IBM, Microsoft, National Instruments, Nvidia, PayPal, Silicon Labs, and 3M. Often called Silicon Hills, Austin is also known to art, music, and SXSW (South-by-Southwest) aficionados as simply, "the ATX."
Contact Information
Parts-People.com can be reached toll-free at 866-816-5254. The main phone number is 512-339-1990. Fax: 512-339-1996. Technology Journalist: paul.b.wordman(at)gmail(dot)com, paul.bottoms.wordman(at)turbo12(dot)com. Company E-mail: info(at)parts-people(dot)com.
More Tech Press Releases