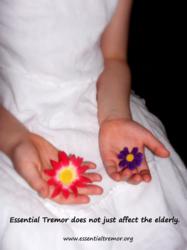 Lenexa, Kansas (PRWEB) December 03, 2012
Essential tremor (ET), a neurological condition that affects an estimated 10 million people in the U.S., now has a specific classification with important ramifications for patients and healthcare providers.
The World Health Organization (WHO) has given validation to millions of people in the U.S. diagnosed with essential tremor when the International Statistical Classification of Disease and Related Health Problems (ICD) code book was updated to the 10th edition. What was once coded and known by the healthcare community as a nonspecific tremor (333.1) or nonparkinsonian tremor now has a name and a code.
ET is very frequently misdiagnosed as Parkinsons disease. The condition is often characterized by rhythmic, involuntary and uncontrollable shaking of the hands and arms during movement, but it sometimes can also affect the head, voice, legs and trunk. This serious and progressive condition can significantly affect a persons quality of life socially, professionally and emotionally.
For the ET community, this designation means that essential tremor is recognized as a separate neurological condition that is classified and separate from other tremor disorders, says Catherine S. Rice, Executive Director of the International Essential Tremor Foundation.
Despite the high prevalence of ET, estimated at 46% among persons aged 65 and older, until now, there was no ICD-9-CM diagnostic code that is specific for ET, says Dr. Elan Louis, Department of Neurology, Columbia University, referring to the code system in the 9th edition of the code book.
The 10th edition ushers in, for the first time, a specific diagnostic code for ET. For the ET community, including patients, patient advocacy groups, physicians, and researchers, this is an important step that has implications in terms of research, clinical care, and public health, says. Dr. Louis.
For research, patients can be better ascertained from clinical care databases and billing data bases. A disease-specific code may be queried and cases may then be easily identified. The lack of a specific code for ET has been a barrier in this regard.
Prior to this classification, the medical community could not code essential tremor as a diagnosis all to itself. It was lumped in with other nonspecified conditions. Rice says, We considered this yet again another sign of indifference for a person diagnosed with essential tremor because their medical condition could not be properly classified by the medical community.
In clinical settings, ICD codes are universally applied across the country, thereby helping physicians to define the exact medical problem of a patient, anywhere in the country. The codes are necessary for patients filing insurance claims. Clinical trials would benefit from the ability to more accurately identify a patient sample, based on a more precise diagnostic code. Similarly, for clinical researchers and pharmaceutical companies, the usage patterns of specific medications may more easily be tracked in ET patients through computer linkage to pharmacy records.
Clearly, essential tremor is now recognized as a valid neurological condition that is viable, specific and respectable. This is a huge step forward in the fight to increase awareness not only with the public but with everyone in the healthcare community, says Rice. And it also provides a way of tracking the incidence and mortality rates so appropriate statistical information can be gathered.
But our job is not over and in many ways it intensifies. We must keep the pressure on continue to demand and expect that essential tremor as a neurological condition be given the respect it deserves and that it no longer be diminished as a nonspecific condition in the eyes of the healthcare community, says Rice. We must continue to make sure that people are not ignored or disrespected and that they be given as much courtesy and consideration as others who have other medical conditions. People diagnosed with essential tremor deserve so much more; access to better treatments, greater awareness of the condition and its effects and the funding of more research. This is a grand step in the right direction but by no means, the last.
About The International Essential Tremor Foundation:

Headquartered in Lenexa, Kan., and founded in 1988, the International Essential Tremor Foundation is the leading organization in the world dedicated to helping those affected by essential tremor. The IETF funds research to find the cause of essential tremor (ET) that leads to a treatment and cure, increases awareness, and provides educational materials, tools, and support for healthcare providers, the public, and those affected by ET.
Since its inception, the IETF has distributed more than $ 600,000 in research grants to fund 24 promising ET research studies. To learn more about essential tremor, visit http://www.essentialtremor.org.
###
Related Computer Press Releases