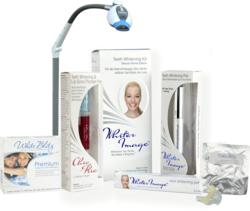 Atlanta, GA (PRWEB) December 14, 2012
White Blitz has reported an increase in sales for Q4, leading the teeth whitening provider to believe that consumers are still visiting spas, salons, and partaking in health treatments during the holiday season. Whether as gifts to oneself or others, for family photos, or as an annual tradition, it is apparent that beautifying is on this years holiday shopping list.
For many consumers, the holiday season is an occasion for shopping, spending time with family, and other special moments. Some may even take advantage of time off to enjoy a vacation. Regardless of how one celebrate the holidays, figures captured from late September to early December are implying there is a steady stream of consumers visiting their local spa or salon.
The holidays are a definite time to capture memories on film. When it is time to be photographed, a confident, flashy white smile is the goal. If ones teeth are stained or yellowed, it is unlikely that a bright smile will be expressed. There may even be the look of sadness or anger in a photograph that should remind one of a happy time. When hair and nail appointments become less important than stocking stuffers and holly, White Blitz offers an affordable solution to maintaining beauty during the holidays.
Whitening teeth before attending family or holiday events will make pictures beautiful. Whiter teeth will make one look back on these events, and remember the joy of sharing the holidays with those important us. Photographs are no longer limited to being printed and stored in an album for occasional viewing. People are using their phones and computers to send photographs via text, email, or even post on a plethora of social media forums, thus these images can be viewed instantly. Therefore, when the camera captures ones smile, it is ideal to have sparkling, white teeth to make one look cheerful and beautiful.
Some of the best teeth whitening methods are teeth whitening pens and kits that can help whiten teeth fast, so one can have an engaging smile for the holidays. For more information on purchasing teeth whitening products as stocking stuffers, contact White Blitz at 1-877-944-8330 or visit http://www.whiteblitz.com.