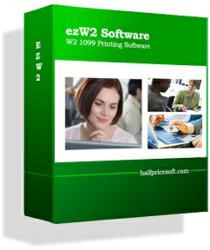 California, CA (PRWEB) December 07, 2012
Small businesses that need to print W-2 forms for employees can cut cost easily this tax season with the new ezW2 2012, the W2 form preparing, printing and e-filing software, from Halfpricesoft.com. The latest edition includes several new features to save users time and money for Year 2012-2013 tax seasons.


ezW2 2012 can print all W-2 and W-3 forms on white paper to cut cost on pre-printed forms. And the black and white substitute forms of W-2 Copy A and W-3 are SSA-approved.

ezW2 2012 can print the recipient copies in 4-up format this year and help users cut cost on white paper.

ezW2 2012 can fill in 2 different red forms on the same sheet. So employers who still prefer the traditional red forms can cut cost on red forms.