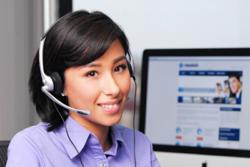 Tijuana, Baja California (PRWEB) October 10, 2012
There are many ways to find companies that offer the Virtual Assistant Program that better suits their business needs. When doing a Google search on Virtual Assistant over 1 million listings come up, some are better than others. The most popular are in Mexico, India and the Philippines. For companies in North America, the best option is a Near-shore solution, meaning Mexico. Why? Because in Mexico, especially in Baja California it is possible to find trained, bi-cultural and dynamic virtual assistants in a very cost effective environment while fulfilling the needs of clients to their highest expectations.
Recently Call Center Services International, a leading state of the art Call Center in Mexico, launched My Virtual Assistant program that is meant for every industry that needs support for their business. Experts in marketing, graphic design, e-mail blasts, lead management and social media put the finishing touches on marketing campaigns for their clients. As well as providing them with marketing materials, postings and blog updates to websites and numerous other services. Back-office trained Virtual Assistants become part of the companys team. The clients are assigned a dedicated Point Person who organizes their tasks and manages them on a daily basis. Clients get an endless array of services through this package including in-bound and out-bound calling, blogs, database management, advertising, CRM, lead processing, and more.
The package that the VA Program offers is not only effective but also affordable. This is why a Virtual Assistant makes an excellent option for those who want to accomplish performance objectives and focus on dollar productive activities.
About Call Center Services International:
Call Center Services International (CCSI) is strategically located in Baja California, Mexico just minutes from San Diego, California. CCSI handles the complete set-up of call center operations in Mexico and manage the day-to-day administrative duties. As your near-shore solution CCSI features bilingual, bicultural, educated and highly motivated Agents.
Our business solutions allow companies to reduce agent cost by as much as 50%, while accomplishing their corporate performance objectives. Call Center Services offers agent specific programs ranging from Debt Collection, Business Process Outsourcing (BPO), Order Processing, Survey Calls, Customer Service and Virtual Assistants.
Our Virtual Assistant team offer professionals who can fulfill the time consuming day-to-day activities from your business and provide full back-office/marketing support that will take your business to the next level. Allowing you the time to focus on dollar productive activities and what matters most to you!
For more information visit http://www.bajacallcenters.com, or contact us at info@bajacallcenters.com / (858) 427 8514.