The RealHelp iPhone App Can Help Keep Teenagers Safer.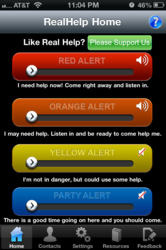 Newport Beach, CA (PRWEB) October 23, 2012
The RealHelp App gives teenagers another way to reach out for help when they need it.
Parents cant guarantee the safety of their teenage children, but with RealHelp they can give them one more option to reach out for help. RealHelp exists for those situations between which a user might call a friend or family member for help, and those where a call to 911 is appropriate. With the swipe of an alert button, RealHelp sends dozens of push notifications to preselected emergency contacts, informing them that the RealHelp user is in trouble. From there, those contacts can see the users location, hear live streaming audio, and see any pictures taken by the alert instigator. It gives all of those people everything they need to help. They can head to the alert location to intervene and extract the RealHelp user, or they can listen and direct emergency services to the location if it sounds appropriate. Just the act of involving so many people may be all that it takes to prevent crimes that wouldnt take place if there were witnesses present. While the RealHelp App is useful for anybody, its especially useful to teenagers in that it makes them more likely to seek help and get a response.
With RealHelp, a teenager can make sure that alerts only go out to people that he or she is comfortable seeking help from. There are three color coded alert levels, red, orange, and yellow, and the user can quickly and easily set which of their contacts gets alerts at which level. Just like a teenager might call a friend for help, RealHelp allows that teenager to reach all of his or her friends for help. If the situation is urgent, that can make all of the difference. In the time that it takes for one persons phone to start ringing, RealHelp can have pushed dozens of push notifications and Facebook wall posts inviting friends to get involved and help out. By the time that a user could have reached voice mail, they could already have a friend messaging them within the RealHelp alert. Whats important though is that the user trusts all of those people on his or her contact list enough to call out for help. While parents can insist on being on that list, they cant insure that their child wont remove them from some alert levels. While parents may prefer to be notified on every level when their child is in trouble, they probably prefer that their child seeks help without hesitation rather than stalling until its too late.
The creators of RealHelp stress the importance of not using RealHelp as a substitute for 911, but want it to be available where teenagers have reasons not to call 911. Everyone wants their children to be able to call 911 and get quick emergency assistance when in trouble. Unfortunately, teenagers are prone to be engaged in various illegal activities. In fact, it seems more likely that a teenager will need to seek help while involved with underage drinking, recreational drugs, or just out after a citys curfew. For all of those situations, a teenager has to weigh the legal consequences of calling the police against the importance of getting fast reliable emergency assistance. Just hesitating may mean waiting for the situation to go from bad to worse. With RealHelp, a teenager can call out for help without worrying about legal consequences. Even where a teenager might eventually called 911, he or she can use RealHelp preemptively. That low barrier to action means that the user can can reach out for help earlier, and even keep the situation from progressing to the point where 911 is appropriate. That RealHelp alert also increases the chances that others who are listening in will call 911 if the situation requires it.
You can learn more about RealHelp App at RealHelpApp.com, and get the fully featured version free for your iPhone at the iTunes App Store. The RealHelp App is entirely supported through user donations, and is ad-free.
About The RealHelp App
The RealHelp App heads off potential emergency situations by instantly notifying dozens of preselected friend and broadcasting audio, location, and pictures to them in real time. RealHelp is available fully featured and free for the iPhone in the iTunes App Store. Its supported through in-app donations by RealHelp users. RealHelp is ad-free since ad servers would slow down the app. Theres a graphic guide to how it works here: How RealHelp Works, and plenty more information at RealHelpApp.com.
Find More Graphic Press Releases