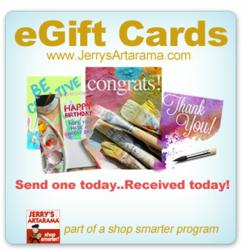 Raleigh, NC (PRWEB) October 02, 2012
JerrysArtarama.com has been offering an electronic gift card service, or eGift Cards, for over a year now for its online customers. Electronic gift cards provide customers with an easy and instant way to present gifts to artist friends and family. eGift Cards that are available on JerrysArtarama.com are available for any occasion and when sent out, they arrive almost immediately direct to the recipients email address and can be used to purchase any of the vast array of fine art materials offered on the JerrysArtarama.com website.
For over 40 years, Jerrys Artarama has been a principal in the art supply retail business, blossoming from just one store location into an online leader in the US and abroad by offering many resources and low priced art materials through the catalog and website mail order division.
Keeping up with the changing times means Jerrys has remained at the forefront of the art materials industry, and the eGift Card option which provides instant gifts perfect for any artist, has proven to be in high demand. Gift cards were always a very popular choice and over the last year due to the convenience, instant deliverability as well as no shipping costs our electronic gift card service has grown to be 15% higher than that of the traditional gift cards that are sent through the mail says Michael Marchetta, Director of Marketing at Jerrys Artarama. I see this trend continuing as more and more customers want to give the gift of art, have the ability to pick a design, personalize a message and have it delivered to the recipient almost instantly without having to add on a shipping cost.
To be able to supply this convenient service to customers, Jerrys Artarama leverages the technology from Bronto Software (Bronto.com), an award-winning leader in the marketing world and the only platform that caters specifically to e-commerce. Brontos advanced API (application programming interface) allows eGift Cards ordered by Jerrys customers to be sent instantly, without a backlog.
By leveraging the Bronto eMarketing Platform to ensure instant deliverability, JerrysArtarama.com is able to offer many advanced solutions to enhance the online shopping experience of our customers and provide services which makes us very different in the art materials industry says Marchetta. This will be especially critical during holiday times when consumers are looking to send gifts last minute to friends and loved ones.
JerrysArtarama.com eGift Cards are also fully customizable: Customers can choose from a wide array of graphic designs, add a personalized message, and select the amount of the gift card with just a few clicks. Theme-specific designs ranging from birthday and graduation to holiday and even inspirational art quotes ensure that there is nothing impersonal about this gift. eGift Cards are redeemable on the JerrysArtarama.com website, and can be used as soon as theyre received and perhaps most importantly, their instant delivery means no more forgotten birthdays, lost gift shipments, or belated holiday presents.
Because art can be quite a personal pastime, it is sometimes difficult to choose an art supply gift for an already accomplished artist. By sending an eGift Card, customers can ensure that their intended recipient receives the perfect present the gift of choice. eGift Card recipients can use their gift to purchase any art supply available on the JerrysArtarama.com website, choosing from oil and acrylic paints, watercolors, artists canvas, paintbrushes, instructional DVDs, pastels, graphite and colored pencils, archival papers, studio and travel easels, framing and matting supplies, art storage and organization solutions, printmaking materials, kids art supplies and much more. Jerrys eGift Cards are for artists, the gifts that always fit.
Leading into the 2012 holiday season, JerrysArtarama.com is well-prepared. Through the innovative capabilities provided by Bronto, Jerrys is able to offer their customers the ideal gift option that can be sent instantly, to anyone, anywhere.
For more information or to order an eGift Card, visit JerrysArtarama.com