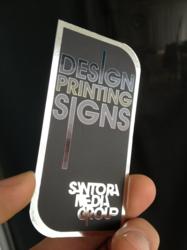 (PRWEB) October 31, 2012
Name, title and contact information; whats the big deal? With such a limited function is there a need for elaborate business cards? The short answer is yes. In most industries a business card is an extension of your professional appearance; it reflects your style, attention to detail and should act as a welcome complement to any introduction.
Not only do they reflect artistic style and individuality, business cards today are being used for a myriad of reasons. From appointment reminders to customer loyalty cards, the possibilities are expanding while still fitting inside your wallet. The only differentiating factor at one point was the quality of paper. While paper quality is still segmented there are several other elements that can contribute to the ultimate finish.
Spot UV business cards are a prime example. Spot UV is a method in which predetermined areas of a matte, or flat, card are glossed with a UV coating. This adds emphasis to parts of the card and draws the eye of the viewer; a subtle but effective touch. If a customer wanted logo in the corner to be the focal point of your business card, spot UV may be ideal in making it stand out. This is an inventive and catching way of adding the illusion of an extra layer without having to change the dimension of the card, such as in embossing.
Matt Santora, owner of San Diego based Santora Media Group, is on a never ending mission to maximize the solutions he can offer his clients. Spot UV Printing is just another option in his arsenal of solutions for businesses in San Diego and beyond.
We have an obligation to our customers in providing them with every possible resource to stand out among the competition. Im constantly looking at emerging trends and new advances in tech and seeing how I can provide my clients with what they need for todays environment.
The spot UV trend is still catching, and the fact that it hasnt yet become standard can add allure to those already with them. For a relatively cheap enhancement, why hasnt this caught on?
Some business owners simply havent been exposed to anything else. Once they see the advances that have been made it opens their mind to more options. Its a chain reaction of adaptation, one that ultimately woos both the business cards owner and recipients.
Some of our new customers have no idea of the abilities of todays offset printing. Its a great feeling when a client comes in and discovers first-hand how much more potential their products can have. Empowering the customer with new marketing trends and solution sets is the core of what we do here.
Though spot UV can certainly take your business card to the next level, the result is ultimately dependent on the quality of design. Santora Media Group staffs a team of professional graphic designers that utilize this new and creative technology with inspiring results. This is just another example how Santora Media Group offers a family of quality services all in one enjoyable and rewarding experience. First-class graphic design, signage and printing matched with exceptional customer service, a match made in San Diego.
Related Tech Press Releases