Software Developer Company eReflect Reveals Ultimate Typing Program Is Not Only for Beginners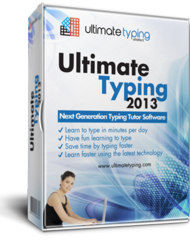 New York City, NY (PRWEB) December 21, 2012
After the release of its newest software package, Ultimate Typing, feedback from customers and reviewers alike emphasized the same thing: there is always room for improvement. Anyone interested in learning more and becoming better at whatever it is they are doing is all too aware of this popular saying. Because the same also holds true for those who think they already have their typing skills down pat, there's always the possibility for increased speed and accuracy. As many software reviews have noted, Ultimate Typing software meets that need, because it's not just typing for beginners, its also for those who are in the more advanced levels.
Making one software package appropriate for many different skill levels can be difficult, but eReflect's developers have done it. Those typists who are concerned about their speed can definitely benefit from the software. Even a casual blogger or part-time writer will enjoy increased productivity with increased speeds. With this in mind, Ultimate Typing has integrated all sorts of trackers to make sure that no detail is missed when it comes to the users progress towards a faster word count.
By using Ultimate Typing's individualized lesson plans, fast typists can still become faster typists, even if they already have enviable typing skills. Of course, the bigger and more important benefit for any typist is that they will be able to improve their efficiency at work. Better typing skills means better typing speed and accuracy. In effect, this translates to less mistakes and faster progress with the work pace. That's why Ultimate Typing is recommended not only for people who have typing-heavy jobs, but for anyone who uses a computer during their work days.
There is a reason why typing skills are given prime importance by employers when they're searching for new employees. That's because having this ability generally means that the employee is able to work faster. Independent software reviews of the product confirm that by using the lessons and exercises provided in the Ultimate Typing software package, the user will quickly learn how to type without having to constantly look down at the keyboard. The personalized exercises allow the user to progress at their own pace, with effective, targeted practice sessions designed to meet each user's individual typing goals.
Ultimate Typing does all this, with as little as seven minutes a day of practice required for the user to get started on the road to better typing abilities.
For more information about the Ultimate Typing software, visit http://www.ultimatetyping.com/.
About Ultimate Typing
Ultimate Typing Software is a tutorial program designed specifically for the improvement of typing skills. It was created by eReflect, a world leader in e-learning and self development software.
Since its creation in 2006 by its director, Marc Slater, the company has already catered to over 112 countries all over the world, offering products with the latest cutting-edge technology, some of which are among the worlds most recognized and awarded in the industry.
Related Computer Press Releases