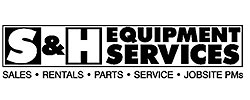 Irving, TX (PRWEB) November 14, 2012
S&H Equipment Services, based in Irving, TX, is pleased to make the new Gehl RT210 available to its light equipment customers. This new track loader offers plenty of advantages over competing loaders including increased power, Gehl's impressive HydraTrac tensioning system and a very competitive price.
Track loaders are an ideal solution for outdoor work, including landscaping, excavation, digging post holes, moving snow and gravel, and carrying things around the job site. S&H Equipment Services offers the Gehl RT210 as just one of many equipment solutions for both commercial and residential use. You can see the RT210 in person by visiting their location on S. Walton Walker Blvd. in Irving.
Putting the Gehl RT210 ahead of the competition are great features, such as the Gehl HydraTrac tensioning system requiring less maintenance and increasing track life, easy to change attachments and optional hydraglide float on the lift arm to prevent material loss. The new loader also offers high flow auxiliary hook-up for hydraulic system, a fully enclosed operator cab with air conditioning and radio, and a starting sale price of just $ 57,000.
S&H Equipment Services has been in the business since 2002. Their partnerships with Gehl and JLG have allowed them to offer both equipment lines for sale and rental for the past nine years. Furthermore, the company's fully trained staff has decades of combined experience available to help customers find the right solutions for all their jobs. For more information about the new Gehl RT210 and all S&H Equipment Services products, visit their website at http://www.shequipmentservices.com.
About the company:

S&H Equipment services is a construction rental company that offers a wide variety of equipment. They first opened our doors in 2002 at a small shop in Irving, TX after purchasing the assets from Lift-Tech Inc. They were based solely on service and parts establishing their customer base and priding ourselves on our customer service and a quality product. For more information, please visit their website at http://www.shequipmentservices.com