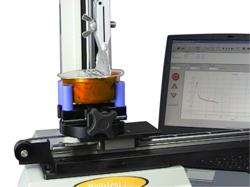 Sterling, Virginia (PRWEB) October 18, 2012
A famous food manufacturer uses a Mecmesin peel testing device to reduce wastage resulting from seal adhesive defects and provide their customers with a safe, well-sealed, edible product at minimum cost.
The food packaging industry has long had concerns about pinholes, flex cracks and leaks in the flexible materials and seals of retort packaging. A famous global food and drink maker needed to test the laminated retort packaging films that protect products such as their popular microwaveable stir-in pots.
Efficient, economic peel testing of the seals of their microwavable pots reveal the force required for peeling and identify inconsistencies in the adhesive layering between seal and pot. Using their Mecmesin peel test solution, they are able to observe materials performance and adhesive layer performance in detail, store multiple tests, and overlay results for comparison purposes. The results are cost savings through elimination of excess adhesion, reduced wastage, and greater batch consistency, which translate to fewer returns, fewer customer complaints, and contribute to a successful, popular product.
Retort film is manufactured from multiple layers of laminate foil and withstands extensive thermal processing to heat seal and sterilise food contents. This packaging method provides the product with shelf-stability, while giving consumers convenience and protection from harmful microorganisms.
Since blown seals or breaches in film can lead to contamination or spoiling that can cause food poisoning, this maker needed to run peel tests to determine the following: