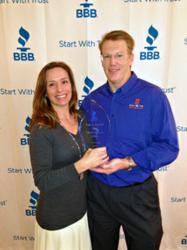 San Diego (PRWEB) December 07, 2012
On-site Tech Support was recognized on December 4th as the winner of the 2012 Torch Award for Marketplace Ethics by the San Diego, CA Better Business Bureau(BBB). The Torch Award is presented to businesses that adhere to high ethical standards of behavior and demonstrate a commitment to customers, employees, suppliers, shareholders and surrounding communities.
Scott Smeltzer and Sharon Smeltzer accepted the award on behalf of everyone at On-site Tech Support.
Scott said We are honored to be recognized as a leader in business ethics. This award is the direct result of the outstanding service that all of our employees put into each and every On-site Tech Support client.
We have many goals for our company, and we have achieved many things, but our proudest achievements are those that you cant really put a dollar amount onthe respect and loyalty of our employees and the friendship and trust of our customers.
About On-site Tech Support:

On-site Tech Support provides computer consulting and outsourced IT support (i.e. Managed Services) to businesses with between 10 to 150 employees. Founded in 2004 by Scott Smeltzer, On-site Tech Supports focus is to deliver a solution that is driven by your business. We collaborate with you to translate your business strategy into the right IT plan. This process allows our technical support team to meet your IT needs with a perfect match of network security, computer support, proactive maintenance, and IT consulting.
Our team of IT professionals have all passed thorough background checks and bring deep expertise and experience to each client engagement. Our Customers are small businesses to mid-size enterprises across many industries, including financial services, franchises, legal and healthcare.

On-site Tech Support was also a finalist for the San Diego Chamber of Commerce Small Business Awards. For more information please visit http://www.on-sitetechsupport.com.