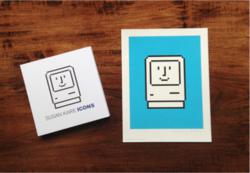 San Francisco, California (PRWEB) December 05, 2012
Susan Kare, the noted Silicon Valley graphic interface designer, referred to by the New York Times as the Betsy Ross of the personal computer, is today announcing her new products for the holidays each at $ 99.
The first is a bundled set that includes her famous Smiling Computer signed and numbered print accompanied by her book, ICONS, featuring 80 of her most popular icons created between 1983-2011. ICONS comprises a collection of original Apple icons including the Bomb, Watch cursor, Smiling Macintosh, and Moof the Dogcow, and the 1983 and 2011 portrait icons of Steve Jobs, among others popular illustrations from companies like Google and Facebook.
In addition, Kare is announcing the new Icons A to Z print as a signed, limited edition 16 x 20 art print featuring icons designed by Kare for each letter of the alphabetfrom a little green Alien to a classic Zipperits a great piece of art for a childs room, or for any hipster who loves beautiful illustrations.
Since 1983, Kare has been widely recognized as a pioneering and influential graphical user interface iconographer. Based in San Francisco, she has designed thousands of icons for the worlds leading software and Internet companies that have become familiar to anyone who uses a computer, including the original Macintosh interface from 1984. Her icons are more like road signs than illustrationsclear, concise, and instantly recognizablethey communicate their function immediately and memorably, and with elegance.
Smiling Computer Print and ICONS Book Set:

Pages
Categories
Blogroll
Archive
Meta