North Carolina Rockers THE FIFTH Combine Sex, Drugs and Rock n' Roll for Upcoming EMG/Universal Debut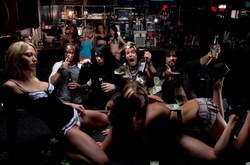 Nashville, Tennessee (PRWEB) June 30, 2009
North Carolina rock band The Fifth has signed with EMG/Universal and will release their debut album Confessions of Man on July 28, 2009. The band has also signed an exclusive long-term management agreement with partners Ricky B. Rogers & Ray Ware of Nashville-based Fused Management, home to all-girl rock band Atomic Blonde, multi-platinum singer-songwriter Bob Carlisle and more.
"I am impressed with this band's commitment to their fans," states Ware. "They instinctively understand how to give their audience what they want." Rogers adds, "This band is poised to erupt nationally because they understand that rock n roll should remain first and foremost about fun."
The Fifth may be new to the national scene, but since 2001, the full-throttled foursome has tore up the North Carolina club circuit in support of two full-length independent CDs, plus a pair of EPs. And it was no surprise to their loyal fans when they started to appear in the national spotlight.
Millions of television viewers have heard the group's song "Even To This Day" on a recent "Grey's Anatomy" commercial, as well as two separate Dodge Ram commercials in which the band was featured. Add in a Monster Energy band partnership and opening slots for the likes of Nickelback, Hinder, Staind, Poison's CC DeVille, Crossfade, Breaking Benjamin, Three Days Grace, Sevendust, Puddle of Mudd, Filter, Saliva, Hoobastank, Rev Theory and many more, and The Fifth is well on its way to being a household name.
"The culture of the band is what's special," injects front man Roy Cathey, who first found fame as leader of MCA act Cold Sweat. "Our hometown of Fayetteville is a military town, which means people come see us and then spread the word all over the country. We've worked our asses off for the past seven and a half years and we're damn lucky so many soldiers take our music with them wherever they go."
Adds bassist B-Man, "We've actually heard from guys who've gone over to Baghdad and spray painted The Fifth's logo over pictures of Saddam Hussein. They write and say how our music helped them get through the week, which is why we make sure when they come back to see a show, we give them the biggest bang we can."
Like the good old days of Motley Crue, Guns N' Roses and KISS, The Fifth is committed to an incendiary live show that thrives on the personalities of all the players. While so many of today's bands have become faceless and generic, this foursome packs plenty of charisma into an unrelenting electric upheaval.
"We pride ourselves as being a modern rock band, but we love the big shows of yesterday," confirms drummer Marc Anthony. "We have the sound of today, but with the connection of an old school rock show. Everyone lets themselves shine through on stage and you can tell we're all having a blast letting our identities come through."
Despite the larger than life personas, the guys' first priority when they hang up their instruments for the night is to meet their fans. Not only is The Fifth comprised of the most approachable guys in the music business, but they're committed to providing a sense of enjoyment and empowerment to everyone along the way.
"Everybody loves a good rock show," affirms Roy. "We write songs people identity with and that can help put a smile on someone's face, plus we throw a little sex, drugs, rock n' roll and any other bit of debauchery in for some extra fun."
For more information, contact: Brian Mayes at Nashville Publicity Group, (615) 771-2040.
# # #
More Ram Press Releases