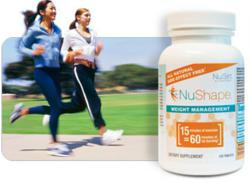 (PRWEB) November 23, 2012
Will the hectic holiday season leave you precious little time to exercise? NuShape may be just what the doctor ordered a dietary supplement that works with your bodys natural chemistry to turn 15 minutes of moderate exercise into 60 minutes of fat-burning. NuShape is helping time-starved consumers lose a significant amount of weight and can help prevent weight gain during the holiday season, according to NuSirt Sciences, the biotech company that manufactures the all-natural product.
NuShape saves you time by accelerating the benefits of fat-burning exercise. NuShape has demonstrated in clinical studies to increase fat burning by 300 calories per day, said Doug Grindstaff, NuSirt Sciences CEO. People strapped for time, especially over the holidays, often dont have an hour to exercise. NuShape now offers them a solution to avoid the dreaded 3-5 pound holiday weight gain that so many people experience.
Leucine is the key ingredient in NuShape to help the body naturally burn fat without any adverse side effects," said NuSirt Sciences' chief scientific officer Dr. Michael Zemel, PhD, former director of the Nutrition Institute at the University of Tennessee. Through his work, Zemel found that leucine, a branched-chain amino acid (BCAA) found in dairy products, activates the powerhouse of the cell to burn more calories. Dr. Zemel's research led to the creation of NuShape, which addresses weight control by combining leucine with vitamin B-6. The all-natural weight loss supplement is activated through normal exercise but without the use of stimulants, fat-blockers or diuretics.
NuSirt Sciences, makers of NuShape, offers these 5 tips to keep fit during the holiday season:
1. Choose a parking spot farther from the entrance Plan on going to the mall for gifts? Why not get in a little exercise before you start by choosing a parking space that is farther away from the mall entrance. It will give you time to collect your thoughts before you enter the shopping frenzy and also some valuable calorie-burning exercise.
2. Say no to the elevator, when possible Whether you are at work or the mall, choose the stairs instead of elevators or escalators. You can also use hills and inclines to create a short workout: Try walking with a quick pace up the hill for a minute or two, then cool down by walking down the hill.
3. Bring the kids to the park The outdoors is a great way to de-stress, spend some time with your kids and get in some exercise. Pushing kids on the swings, playing tag or throwing a Frisbee can help teach kids good fitness habits, while you reap the benefits as well.
4. Take a pre- or post-Thanksgiving stroll While some families like to play tag football, others can find some fitness time with a pre- or post-Thanksgiving walk. It can help diffuse holiday tensions with family and friends as well as help you digest that large Thanksgiving meal. Just 10-15 minutes of brisk walking can get your heart-rate up and lower your blood sugar levels.
5. Create a 10-15 minute workout During this busy time of year, its important to carve out time for you. With 15 minutes of exercise, NuShape helps you lose weight and get in shape, or help prevent holiday-related weight gain, by turning 15 minutes of moderate exercise into 60 minutes of fat-burning naturally. Whether its walking briskly or doing jumping jacks or crunches, carve out 15 minutes of the day for exercise. Target a variety of muscle groups and alternate between cardio and strength training.
To kick start your holiday exercise routine, NuSirt Sciences is offering a BOGO (buy one, get one free) special on Cyber Monday buy one bottle (30-day supply) of NuShape and get the second bottle free. This special offer is for Cyber Monday (November 26, 2012) only. To take advantage of this special offer, visit http://www.NuShape.com and use coupon code CYBER-MON, or on Amazon.com search for NuShape and use coupon code CYBMON12. Also, on Twitter this Cyber Monday, visit @TryNuShape to learn more and participate in a twitter chat with NuShape fitness and wellness professionals.
# # #
About NuSirt Sciences, Inc.:

Founded in 2007, NuSirt Sciences, Inc. is a bio-tech company that discovers, manufactures and distributes nutraceutical products that are natural, outcomes-based nutratherapeutic solutions to improve metabolic health risks. NuSirt Sciences brings pharmaceutical rigor to natural supplements through its research and testing. NuSirt Sciences' first commercially available product addressing weight control is NuShape, a natural weight loss supplement activated through exercise. NuShape's tablets work with the body's own chemistry to burn fat and naturally extend the calorie-burning effects of exercise. The company also manufactures NuControl for healthy sugar metabolism. With headquarters in Nashville, Tenn., the company has a dedicated research laboratory in Knoxville, Tenn. Visit http://www.NuSirt.com for more information.
Related Tech Press Releases