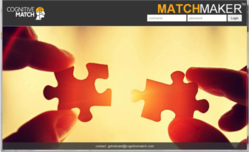 New York, NY (PRWEB) November 01, 2012
Cognitive Match, a leading provider of Dynamic Creative Optimization, today announced the release of an enhanced MatchMakerTM dynamic ad creation platform and their participation DLD Tel Aviv Conference.
Cognitive Match announced the release of a new version of the leading dynamic ad platform MatchMakerTM. This major release allows for even more streamlined deployment and management of all types of dynamic display campaigns including new customer prospecting and personalized retargeting campaigns across both PC and Mobile platforms. This new release builds on our vision of making dynamic creative an easy-on part of every campaign by both brand and direct response marketers by adding in more features and further simplifying campaign planning and deployment. says Natalie Kubitz, SVP Sales and Marketing. In addition, a new, more robust reporting suite quickly and clearly illustrates for marketers which elements of Big Data are fueling consumer response to ads. Our system analyzes every user response to a brands creative, tying the result to data such as weather, time of day, gender, geography and more, all delivered in concise reports designed to deliver key insights about what is driving performance noted Kubitz. This new release will support all of Cognitive Match's media and agency partners and their respective clients to have the best possible creative delivered across campaigns.
Alex Kelleher, CEO and founder of Cognitive Match, was invited to speak at the DLD Tel Aviv Festival and Conference. Alex presented how Cognitive Match drives interaction by consumers. The DLD conference was hosted in Tel Aviv October 21-25th. The Israeli high-tech entrepreneur Yossi Vardi again co-chaired the event with publisher Hubert Burda in this vibrant atmosphere. In attendance at the festival were global companies such as Google, Facebook, Zynga, Autodesk, Y&R Advertising, Amazon, AOL Advertising, Skype and several investment groups.
About Cognitive Match

Cognitive Match is the leading provider of Dynamic Creative Optimization; changing the online experience for both advertisers and consumers by eliminating generic ads using date to optimize advertising tailored to individuals. Cognitive Match works with top agencies, advertisers and media partners across PC, Mobile and Tablet devices. The company recently won the TechCrunch Europa Award for Best Advertising & Marketing Technology and was recently selected as a Future 50 company.
Related Tech Press Releases