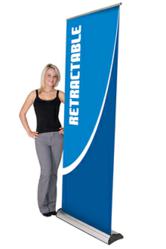 Dallas, TX (PRWEB) October 08, 2012
Environmental stewardship is an increasingly important factor for consumers when deciding where to invest their dollars. For this reason, National Trade Show Displays - http://www.nationaltradeshowdisplays.com/ recent announcement of the addition of an HP DESIGNJET L Series Latex Printer made sense for both the companys products and for its customers. National Trade Show Display, an independent business which provides the hardware, lighting and visuals for trade show exhibits has long prided itself on the quality of work which comes from their in-house graphics team and print production. Customers of the company have returned to them time and again to fill orders for everything from simple table top displays and banner stands to show stopping exhibit trusses.
Green technology is very popular today, notes the National Trade Show Display president. And for good reason, says the sustainability research team at Hewlett Packard. According to their research, if the worlds data centers were to count as a single nation they would rank within the top twenty countries for power consumed. Between the years 2005 and 2010, energy consumption by the worlds data centers increased by a staggering 56%. Since data center production is not likely to decrease in this information age, solutions must come from more efficient and sustainable methods. The HP DESIGNJET L Series Latex Printer which National Trade Show Display recently added to their print operations allows the trade show display company to do just that, become more efficient and sustainable.
National Trade Show Displays acquisition of this state of the art latex printer will allow the company to produce trade show banners and tension fabric displays that have the outstanding image quality of a 1200 DPI printer and the striking visuals which come from the wide color gamut available in the printers Eco-Mark certified ink cartridges. At the same time, the environmental profile of this new technology will allow companies and individuals who purchase banner displays or tension-fabric trade show booths from National Trade Show Displays to assure their own customers that the displays reflect an eco-consciousness which consumers are seeking to endorse.
Using only non-polluting inks, which contain no hazardous air pollutants, require no warning labels, have no need for special ventilation and run with recyclable cartridges, print heads, and cleaning supplies, the HP Designjet L-Series Latex printer can also boast outstanding energy efficiency in operation. Energy Star certified, the printer lightens its own carbon footprint all the more by requiring no external dryers for productive operation.
Furthermore, should customers choose HP PVC-free Wall Paper, the HP Heavy Textile Banner or HP Light Textile Display Banner for their banner stands or exhibit displays, the resulting display will be on materials tested and certified from the perspective of human health. This means the no-emissions and odorless display can be used not just on the floor of an exhibit hall, but also can be safely displayed in schools, hospitals and areas where food is being served.
The non-toxic and low emission inks and materials that that are compatible with this printer not only create a more healthy work environment for our employeesspecifically the on-site print processors, says National Trade Show Display company founder, it also means our customers can safely set up their display in a variety of environments. Seeing as how our modular products are designed to be portable, it seems only logical to assure that they are safe for all environments.
To find out more about obtaining trade show banners and exhibit displays that are environmentally friendly, you can visit the National Trade Show Display website at http://www.nationaltradeshowdisplays.com or call 877-963-6873.