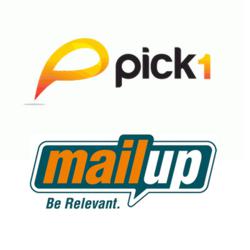 New York, NY (PRWEB) November 07, 2012
Pick1 and MailUp are announcing today at Ad:Tech New York 2012 a partnership to add targeted email messaging to the Pick1 marketing engine, combining the two solutions into an innovative retargeting system based on customer-submitted, actionable data.
MailUp is one of the worlds leading Email Service Providers, delivering over 1.5 billion emails a month for over 3,700 companies around the world. With MailUp, businesses create and send targeted, dynamic email campaigns, from newsletters to automated, post-purchase triggered messages.
Pick1 is the innovative retargeting solution powered by automated, social surveys The market research world often delivers out-of-time, partial insights with no actionability and at a premium price. The advertising world typically provides actionability and engagement, but with no real insights on a business customers. Pick1 is the sweet spot between the two.
Pick1 leverages three basic concepts: questions, insights, and actions. Brands engage their customers with a multi-touchpoint approach, collecting opinions and multi-dimensional social analytics. The collected information is turned into actionable data, allowing businesses to retarget their audience and critically improve their return on their investment.
By integrating MailUps cutting-edge email delivery and tracking technology into its platform, Pick1 will allow its users to send retargeting email messages without leaving the Pick1 dashboard.
At the same time, the addition of the Pick1 market research engine to the MailUp features set will allow its users to seamlessly insert polls and surveys into their emails and publish them to their social touchpoints such as Facebook, Twitter, or web pages.
The partnership will bring tangible benefits to both companies, giving users of both platforms more tools to succeed, expanding sales opportunities, and raising the overall competitiveness of each product.
The integration between MailUp and Pick1 is expected to be released in the first quarter of 2013.

For more information about MailUp, Pick1, and how the two systems will work together, visit us at ad:tech at booth 1841: representatives from both companies will be available.
After the show, you can contact: