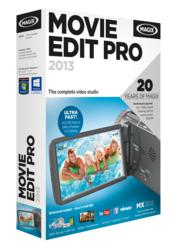 Reno, NV (PRWEB) October 01, 2012
Edit videos faster than ever before with MAGIX Movie Edit Pro 2013. According to customer feedback fast software is a top priority. This best-selling program, now available in four different versions is faster and more powerful than ever before.
The quick file access feature in the Mediapool and the ability to put both video and audio on one track helped declutter the overall look and feel of the user interface and ensures a more efficient workflow. MAGIX developers were able to double AVCHD export speeds and added support of AVCHD Progressive (50p). By optimizing the software and focusing on a tighter integration of graphics cards Movie Edit Pro 2013 now automatically recognizes the graphics cards being used and allows the sure to get projects done faster than with previous versions. Additionally, there are new, extra creative decorative features, intros and outros and a re-designed chroma key function, which is ideal for extracting objects and guarantees near perfect green screen results.
MAGIX Movie Edit Pro 2013 Plus contains lots of new features and add-ons to make video editing easier and more interesting. For example, there is a range of movie templates which can be used to transform video footage into incredible trailers. Use multicam editing techniques to make the most of any special moments caught on film and then synchronize recordings automatically using the audio tracks. More importantly, advanced preview rendering helps to keep everything running smoothly, which is particularly useful when editing multicam or Stereo3D projects.
Image-enhancing aesthetic effects worth over $ 300: MAGIX Movie Edit Pro 2013 Premium
Take advantage of three effect suites worth over $ 300, exclusively available at a low price when purchased in combination with MAGIX Movie Edit Pro 2012 Premium. The New BlueFX Essentials IV package features incredible effects: transform night into day, smooth skin tones, remove wrinkles and more. MotionStudios Vasco da Gama 6 HD is perfect for travel route animations with its database containing 30,000 cities and city layers. Not only is there a range of fireworks, sparks, smoke and flame effects in digi-effects Phenomena to make movies stand out from the crowd, there is also a selection of rain, mist and snowstorm effects for when the mood needs to be toned down a notch or two.
To celebrate the MAGIX 20 year anniversary every version of Movie Edit Pro also includes MAGIX Photo Manager MX (Version 11) worth $ 59.99
For the first time ever MAGIX is now offering attractive transfer options to people who want to make the switch to Movie Edit Pro from their current video editing software. See transfer options
MAGIX Movie Edit Pro 2013 (Classic) for $ 69.99,

MAGIX Movie Edit Pro 2013 Plus for $ 99.99

MAGIX Movie Edit Pro 2013 Premium (download only) for $ 129,99
System requirements:

Operates on Windows XP, Vista, 7 and 8. Requires 1GB RAM and 4GB hard disk space for program installation
http://www.magix.com/us/movie-edit-pro/
About MAGIX:
Editors Notes

For further information please see http://www.presscenter.magix.net
Review Copies

Please contact: Nova Fisher, Tel +44 1442 351035 email: nfisher(at)magix(dot)net
About MAGIX:

MAGIX is a leading international provider of high-quality software, online services and digital contents for multimedia communications. Since 1993, MAGIX has been developing leading technologies for creation, editing, management and presentation of photos and graphics, videos and music. Internationally, MAGIX operates from branches in the USA, Canada, the UK, France, Italy, Spain and the Netherlands. The product range is targeted towards laymen and professionals alike and goes beyond the PC range to include seamlessly integrated online and mobile applications.
According to its retail sales figures, MAGIX leads in the multimedia software sector in Germany and the most important European markets, and is one of the most successful competitors in the USA. Fifteen years of market presence as well as one thousand awards worldwide testify to the company's power of innovation.
Music, photo, and video software from the market leader - MAGIX