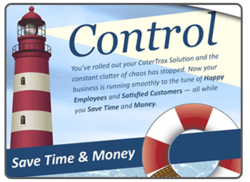 Rochester, New York (PRWEB) October 03, 2012
The Control infographic uses nautical imagery and the theme of rescue to illustrate how the CaterTrax Platform acts as a lifeline out of Chaos for caterers. The second graphic in The CaterTrax Effect series, Control outlines how clients save time and money as they improve employee morale and increase customer satisfaction.
Control is the beginning of the business transformation to life after implementing the CaterTrax Platform, said Dan Welch CFO / Co-Founder. Its about bottom line managementsaving time, money, and resources so you can begin planning for prosperity and growth.
The platform provides clients with a convenient ordering system for customers, a reliable system of record, 24/7 accessibility, and 360 degree visibility to into the business. Clients experience an immediate increase in efficiency and reduction in operational costs. As the chaos gets under control, the lifespan of both employees and customers increases.
In foodservice youre often at the whims of customers and employees. This is especially true when youre running your business in chaos. Rich Rund, CaterTrax CEO / Co-Founder said. Control is about adding accuracy and accountability into your business to reduce stress for you and your employees and ensure customer satisfaction.
Control is the first phase of The CaterTrax Effect, taking clients out of chaos. The remaining phases are Track, Prosper, and Scale. The company will continue releasing its infographic series over the next few weeks.
About CaterTrax

CaterTrax is an industry-leading SaaS company specializing in foodservice management software. The company was started with a core mission: to improve the lives of foodservice professionals. Created by caterers for caterers, the CaterTrax Platform was born out of years of industry experience. The software was initially developed to run the family catering business more efficiently. Since its formal launch in 2000, thousands of sites have implemented CaterTrax solutions in a variety of industries across North America.
CaterTrax allows its clients to implement custom solutions by offering a suite of highly configurable modules that seamlessly integrate together. The platform helps users promote, grow, manage, and sustain their businesses by streamlining back of the house operations and driving more business to the front. Regardless of market segment, in CY 2011, clients on average had a 15% growth in sales revenue, number of orders, and order size after implementing a CaterTrax solution.