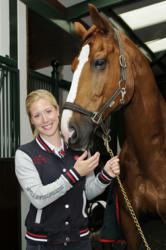 London (PRWEB UK) 1 October 2012
Creative marketing agency, Graphic Evidence, have been working with the organisers of the show since the beginning of the year. As a result of the shows heightened presence in the media, HorseWorldLive has secured some of the equestrian worlds most prestigious and reputable attractions and riders for their upcoming London show.
The latest attractions to be announced are gold Olympic and Paralympic medal winners Laura Bechtolsheimer and Natasha Baker who rode to golden success at Greenwich. These prestigious equestrian figures are new names in a long line of star attractions confirmed for HorseWorldLive, making it one of the most hotly anticipated equestrian shows this year!
Graphic Evidence has boosted the profile of the show through a range of national and equestrian media outlets. The marketing agency has implemented a broad-spectrum campaign that has included media planning, social marketing and online PR.
Graphic Evidence has carried out a number of public relations and marketing campaigns across a range of sectors. As a full service marketing agency, Graphic Evidence are also experts in branding, design for print, website design and packaging design. To see the full portfolio including the work they have carried as graphic designers, visit http://www.graphicevidence.co.uk