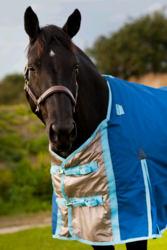 London (PRWEB UK) 18 October 2012
Guardian Equestrian Rugs have been designed to prevent horses from escaping through electric fencing due to the insulating nature of conventional winter rugs. The high specification Guardian Equestrian Rug boasts an entirely unique patent pending panel on the chest of the rug, so that upon contact with electric fencing the intended shock is conducted. The inception of the product aims to prevent accidents and ultimately save lives.
Graphic Evidences first success with Guardian Equestrian Rugs was to come up with the perfect name and branding for the product that would convey the security and safety measures present within the product. Consequently, Guardian Equestrian was born. The unique Guardian branding is a true representation of the product, and stands out in the equestrian marketplace as an innovative and pioneering company.
Graphic Evidences web designers produced an engaging and informative website for Guardian Equestrian Rugs. Their website http://www.guardianequestrian.com is integrated with a secure payment gateway, and enjoys the WordPress CMS system. Graphic Evidence have also undertaken the packaging design of the new product, which is available to purchase online through the Guardian Equestrian website.
Creative marketing company, Graphic Evidence, will continue to work with Guardian Equestrian Rugs via ongoing public relations campaigns and packaging design for the new, innovative product. The recently launched safety rug has experienced an overwhelming response from the equestrian industry whose emergence has been positively received by the equestrian media and widely appreciated by countless horse owners.
The launch of the product has seen its popularity surge on social networking sites and the product is already in high demand with various publications featuring the rug within the media very soon.
To see more of Graphic Evidences successful projects including: branding, web design, advertising design and packaging design - please visit http://www.graphicevidence.co.uk
Find More Graphic Press Releases