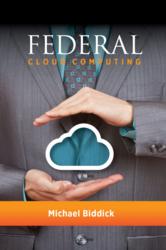 Vienna, VA (PRWEB) December 13, 2012
Fusion PPT, a recognized cloud computing strategy and technology firm announced today that author Michael Biddick, CEO of Fusion PPT and contributing editor at InformationWeek magazine has been working in government Cloud Computing since 2009. In this book published by Cavalier Trail Books, Federal Cloud Computing: A Practical Approach to Strategy and Execution within Government Michael taps that experience in the first book focused exclusively on government Cloud Computing.
The movement to adopt cloud computing within government is resolute. With federal IT spending nearing $ 80 billion per year and increasing reliance on technology, agencies need to seek ways to deliver IT services more efficiently. Despite the avocation of cloud computing, there are clear issues that need to be resolved around security, privacy, culture, and acquisition reform. Federal Cloud Computing is a concise, practical guide that can help government IT leaders develop and fully execute a strategy around cloud computing for their agencies.
Michael Biddick is the CEO of Fusion PPT; a Washington D.C. consulting firm that specializes in Cloud Computing. He has also been a contributing editor with InformationWeek magazine since 2007 and has published over 60 articles on Cloud Computing and improving IT efficiency. Over nearly 20 years, Michael has worked with hundreds of government and international commercial organizations providing expertise around IT service management.
The book is available on online at Amazon.com, Barnes & Nobel as well as independent brick and mortar book stores nationwide. For more information about the book click here.