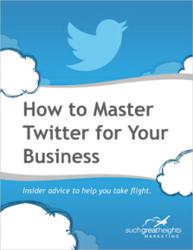 (PRWEB) October 22, 2012
Such Great Heights Marketing LLC, a marketing company serving Detroit and Southeast, Michigan, released a free guide for small businesses striving to maximize their effectiveness on Twitter. The PDF guide, How to Master Twitter for Your Business, is available on the companys website.
The three-part Twitter guide covers what to tweet about to provide value and encourage interaction, how to successfully grow a quality following, and advanced tips and tricks to help companies take flight. Not only does the document outline best practices, it cites actual examples to show business owners how its done.
After encountering dozens of businesses in the Detroit area not using Twitter to its full potential, the idea to provide a free downloadable guide was born.
A lot of businesses grasp how to use Facebook, but we see so many that struggle with Twitter, said Brett Heitz, President of Such Great Heights Marketing. The ideas outlined in our guide are specifically for the needs of local businesses. What works for a Fortune 500 company doesnt necessarily work for the mom-and-pop shop down the street.
Whether your business wants to use Twitter more effectively or if youre looking to get started, you can download the free guide at http://bit.ly/S88OBZ.
About Such Great Heights Marketing

Such Great Heights Marketing LLC is a Detroit marketing company that provides quality, affordable marketing services for small businesses. In addition to managing Twitter accounts for small businesses, the company provides a variety of social media management services, email marketing and other forms of online marketing, inbound marketing, consulting, graphic design, and more. For more information, visit SuchGreatHeightsMarketing.com.