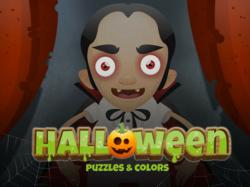 Cupertino, CA (PRWEB) October 12, 2012
As Halloween fast approaches, trick-or-treaters now have something more to look forward to aside from a few spooky frights and more candy than they know what to do with: they can play the enchanting free new childrens puzzle and game app Halloween - Coloring Puzzles for Kids.
Designed by Magister App for iPad and iPhone, Halloween Coloring Puzzles for Kids features fantastic graphics, playful sounds, hilarious character animation, interactive backgrounds, and of course, plenty of puzzles to solve and drawings to color that will keep kids of all ages interested and delighted for hours on end.
Halloween Coloring Puzzles for Kids is our latest and greatest app that combines simplicity, interactive exploring, and of course, plenty of fun! commented Domenico Bulgarelli of Magister App. Parents will love spending time with their kids as they solve puzzles and draw in full, rich color. And best of all, kids can keep enjoying the app long after Halloween is over!
Halloween Coloring Puzzles for Kids, the delightful new app for children that features plenty of funny puzzles, creative drawings, animated characters, sound effects and more, is now available on iTunes at http://itunes.apple.com/app/id561010854, where it has already earned rave reviews and several perfect 5-star ratings. The apps lite version, which is available for free, includes four puzzles. The apps full version includes 13 puzzles, all of which can be painted.
For more information or media inquiries, contact Mark Johnson of appshout! on behalf of Magister Apps at +1 408 757 0156 or press(at)appshout.com.
About Magister App
Magister App was born, some time ago, from an idea of two young programmers; lovers of new technologies, especially mobile devices and everything around it, who are became fathers between "a byte and the other".
So, our children have inspired us with the idea of creating exciting games that are easy-to-use and this has become our main goal - we believe that the simplicity and the careful study of the details is the key for the best results.
We thank all the children and parents who have immediately appreciated our app "Ocean - Puzzles & Colors" and that allowed us to improve our games and create new fantasies. And now we salute you and we go to search for a new idea for the next great game to entertain and amuse your (and our) children.
Learn more: http://www.magisterapp.com
Find More Graphic Press Releases