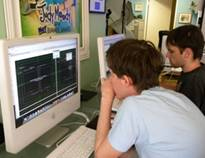 Sherman Oaks, CA (PRWEB) October 12, 2012
Five aspiring Exceptional Minds animators and visual artists shattered yet another glass ceiling for individuals with autism by earning their Flash Adobe Certified Associate (ACA) certificate today, the first organized group of vocational students on the autism spectrum to do so.
This is a dream of mine, to be able to put my ideas to use, said 19-year-old Danny Gott, who along with fellow students Patrick Brady, Christopher Chapman, Lloyd Hackl and Eli Katz received an ACA certificate during an open house at the Sherman Oaks studios on Friday, October 12. Each of the five also received scholarships worth several hundred dollars from Visual Effects Society, a non-profit representing the entertainment industrys visual effects practitioners and one of several industry organizations in support of Exceptional Minds.
I look into the faces of these exceptional students and see dedication and hard work, and an example for anyone who aspires to be more, commented Susan Zwerman, a visual effects producer and board member for Exceptional Minds who helped put together the program to prepare Exceptional Minds students for careers in graphic arts, animation, web design and visual effects.
She says the students accomplishments come at a time when few programs exist outside of high school for Autism Spectrum Disorder (ASD) individuals seeking careers. According to a recent study prepared for the U.S. Department of Education, one in three young adults with autism lack job experience and college or technical training eight years after high school graduation.
Exceptional Minds was started in 2011 by pioneers in the film and visual effects industries as a bridge between high school and the working world for individuals with ASD. Since then, the vocational school and working studio for young adults on the autism spectrum has shattered one autism stereotype after another, including work on highbrow projects such the end credits for recent motion picture Lawless.
Exceptional Minds students have displayed an aptitude for computers and technology that, up until now, has gone largely unmerited.
Its obvious that this community has a special kind of genius and understanding of computers. Now, with this certification, these students have earned the right to compete in their chosen field just like everyone else, said Mike Kanfer, Senior Business Development Manager for Adobe Systems, who has been an early champion of the school since it opened in 2011.
Gott and his fellow students met testing and instructional training requirements for Adobes ACA certification, earning entry-level proficiency in Adobe Flash, which is used to create audio visual and graphic animations. Adobe Flash certification is one of several the students expect to earn during their three years at Exceptional Minds, by all indications the first and only studio of its kind to train individuals with autism for careers in post-production and computer animation.
We work with many different organizations to prepare them for Adobe certification, but I think this is a first for autism, said Jared Baker with LearnKey, which provided the online learning tools and tutorials for Exceptional Minds instructional training. I am not aware of another organization that does what Exceptional Minds does, agreed Francie Stuart with Certiport, the testing organization that helped the school set up onsite testing labs for Adobe ACA accreditation. Having the ACA credential next to their names tells the world that theyve got what it takes, summed up Stuart.
About Exceptional Minds (http://www.exceptionalmindsstudio.org)
Exceptional Minds is a non-profit vocational center and working production studio for young adults on the autism spectrum. Chartered in 2011 to provide the training necessary for visually-gifted ASD individuals who may not otherwise be able to make the transition from high school to the working world, Exceptional Minds offers technical proficiency and work readiness skills that prepare students for careers in graphic arts, animation, web design, visual effects and rotoscoping. Located in Sherman Oaks, California, Exceptional Minds is both an instructional learning facility and a working studio with hands-on student involvement in production projects, many for the film industry.
Find More Graphic Press Releases