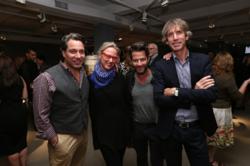 New York, NY (PRWEB) October 02, 2012
Dwell Media and New York magazine launched their first CITY MODERN event, a celebration of New York architecture and design, at the New York Design Center Monday night. New Yorks design elite came out in droves to see dazzling vignettes designed by celebrated interior designers Thom Filicia, Nate Berkus, Ghislaine Vinas and Francis DHaene. The curated exhibition on display, Design Through the Ages, showcased the best in modern design from the 1960s through today. The exhibition is open to the public at the New York Design Center throughout the week. The evening was sponsored by Audi and hosted by the New York Design Center. Dwell President Michela OConnor Abrams and New York Publisher Larry Burstein praised the New York architecture & design community and the nearly 100 designers and architects involved in City Modern events happening this the week.
City Modern has been a labor of love for Dwell Media and our partners at New York magazine, said Dwell President Michela OConnor Abrams. We are committed to bringing designers, architects and design-savvy consumers together to celebrate great design around the city. Our opening night featured incredible designers interpreting Design Through the Ages with excitement and flair for a packed crowd eager to explore modern design with us through City Modern.
Design has always been an essential thread of New York magazines DNA, said New York magazine publisher Larry Burstein. Our partnership with Dwell further establishes New York as a champion of great architecture and design and our shared commitment to this industry.
City Modern will host an amazing array of events, from intimate talks with top architects to studio tours with Brooklyns hottest industrial designers, to modern home tours this weekend in Manhattan and Brooklyn curated by Dwell Editor-in-Chief Amanda Dameron and New York design editor Wendy Goodman.
DESIGN THROUGH THE AGES

Ghislaine Vinas recreated the 1960s with her Go-Go inspired rendition full of brightly colored furniture set against graphic wallpaper by Flavor Paper. "Colorful, graphic, bold and wacky is what the sixties were all about, she said. The sixties was a time of rebellion and people were looking for a new spirit and for wild, fun, colorful alternatives to their parents drab pasts.
Berkus bring us A Single Man with a twist with a shagadelic Ocelot wallpaper, also by Flavor Paper, and vintage 1970s furnishings from 1st Dibs. Also incorporated are decorative accessories and a rug from his new collection at Target which launches October 21st. There is something so memorable about 70s inspired design; the metallic sheens, the edginess.... It was the era of disco and sexy interiorswhats not to like?
Francis DHaene, brings us the best and worst of the 1980s with his Wall Street meets Beetlejuice installation complete with neon sign and sculpture. "The decade of 'greed is good', ME! ME! ME!, Trump and 'If you got it, flaunt it. Perhaps not the most interesting time for good design but it was certainly the launching pad for the sophistication of the 90's!"
Thom Filicia brings it home with a sophisticated look of today, highlighting American-made interiors and designs. "What I love about design in this moment is that it bridges all time periods and styles effortlessly with a smart and thoughtful nod to the future."
All furnishings were sourced from the New York Design Center. Contributors included Stephanie Odegard Collection, HighTower, 1stdibs, Weinberg Modern, Smith and Watson, Brueton, Giorgetti, Global Views, Arteriors Home, Dennis Miller Associates, Thom Filicia Home Collection for Safavieh, and Nate Berkus Collection at Target.
Dwell and New York magazine are proud to be a part of the AIANYs Archtober events. Archtober event information is available at http://www.archtober.org/.