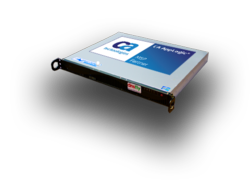 New York, NY (PRWEB) October 09, 2012
UX WORLD, experts in Cloud security, is launching the first to market DNS administration solution configured for the CA AppLogic virtualization platform, in addition to versions available for VMWare ESXI, Xen and Amazon Web Services (AWS). dnsfly is an enterprise-class DNS and DHCP management solution, offered as both a physical and virtual DNS Appliance.
dnsfly is the just right solution for enterprises that are taking applications to the Cloud. It is more secure than too small products that, for example, dont offer DNSSEC compliance (the DNS security extensions) or lack sophisticated control of DNS, and is a more targeted solution than DNS appliances sold by larger companies. dnsfly is a purpose-built appliance optimized for security, but from a company that offers responsive support, the option of management of installation, and experts in DNS who can customize dnsfly to a companys specifications through the products open APIs.
Large companies networks vary quote a bitthey are quite heterogeneousin terms of network elements, functionality, scope of virtualization, and the requirements of applications running. Its important that the DNS solution, which is at the core of the network, can be optimized for a companys particular needs and configuration. UX WORLD knows DNS and our experts can significantly reduce DNS-related IT overhead while at the same time improving DNS security.

--Nick D, UX WORLD COO
dnsfly is built for security. It not only delivers sophisticated yet easy to use tools to manage DNS through a graphical user interface, dnsfly is also optimized for security. dnsfly uses a hardened Linux operating system. It has been stripped, meaning all unneeded ports and services in the OS have been closed, limiting potential points of attack. DNSSEC signed zones and a jailed environment help protect DNS from being exploited. Role-based access gives managers more control.
Domain Name System (DNS) servers translate IP addresses such as 10.10.1.1 into URLs such as http://www.uxworld.com. DNS security is critical because when DNS goes down, a companys Web site, VoIP telephony, internet access and business critical applications such as CRM may go down. Additionally, a business customers may be targeted in DNS attacks, misdirecting them to hackers Web sites, or phishing for sensitive customer information. dnsfly helps companies reduce the threat of nefarious attacks and outages of their dependant applications.
About UX WORLD

UX WORLD offers a targeted and secure solution to manage DNS and DHCP. This purpose-built application is being offered as a physical device or a virtual appliance. The OVA distribution is compatible with VMware ESXi, CA AppLogic, Xen, and Amazon Web Services (AWS). As part of the core functionality, dnslfy resolves a problem with private IP persistence affecting users of AWS Elastic Cloud Compute (EC2), Amazons Cloud virtualization platform.
For additional information visit http://www.uxworld.com or email info(at)uxworld(dot)com.
Related Graphic Press Releases