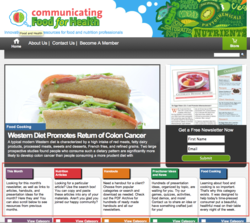 Louisville, CO (PRWEB) October 01, 2012
Food and Health Communications, Inc. today announced the launch of their online library, Communicating Food for Health. The mission of the library is to provide a mastermind ideas page each month from top writers who are dietitians, professional editors, graphic artists and a chef.
Today's consumer is overwhelmed with a busy schedule and does not have the education needed to make good lifestyle choices that can have a big impact on their health, especially over the long-term. They have sedentary lifestyles and are often faced with poor food choices and a lack of time and culinary skills every day so CFFH provides succinct information, news updates, how-to handouts and fun ideas to educators who want to empower their clients and students to make life altering changes.
In celebration of 20 years of publication and the new library, Food and Health Communications is offering a free newsletter to anyone who visits the site at http://communicatingfoodforhealth.com

The newsletter has the best research stories and handouts for the year. In addition to the free newsletter, the company is offering grants to a teachers who want to make a difference in their student's lives but who lack a budget to obtain good information and teaching materials. There is a link at the bottom of the page for Grants and those who teach are encouraged to apply.
Melissa Dalton, MPH, RD, CD-N, a current subscriber, really enjoys getting her newsletter each month and commented, "I just want to take a moment to let you all know how much I appreciate CFFH! Your work, makes my job easier! Every time I am preparing for a presentaiton, I simply search the library and very easily find handouts that are just perfect for what I need. I don't know what I would do without my CFFH membership. I think it is essential for any dietitian who is educating people about nutrition! LOVE IT!!"
Judy Doherty, PC II, Founder and Chef, explained, "I feel very honored to have worked with so many wonderful dietitan editors including Dr. James J. Kenney, PhD, RD, FACN for over 15 years. It has been a joy to read all of his articles and to be inspired to create healthy dishes that are as delicious to eat as they are good for you. I wanted to create this library to organize all of his articles, along with our recipes, cooking tips, more articles and handouts into a library. We will also provide our members with mastermind ideas from top authors each month. It is a mastermind project for me as well as our members."
Visit the new library at http://communicatingfoodforhealth.com
####