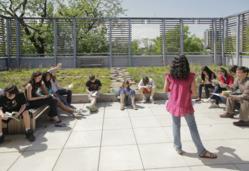 New York, NY (PRWEB) October 03, 2012
School's been in session around the country for just about a month, but the discussion on K-12 architecture is just beginning at the Center for Architecture. Two exhibitions, The Edgeless School: Design for Learning and The Best School in the World: Seven Finnish Examples from the 21st Century, which open October 1, 2012, are jump- starting the dialogue between contemporary educational needs and school architecture.
Designing schools for 21st-century pedagogy has many challenges, says Joseph Aliotta, AIA, LEED AP, 2012 AIA New York President. School design is also one of the most important building types in many architectural firm portfolios, and this exhibition makes a valuable contribution to the profession by elucidating excellent examples for architects, policy makers, clients, and the public.
With rapid changes in technology being perhaps the defining feature of our time, this exhibition brings a new perspective to the digital revolution's effect on education and how architecture is, in turn, adapting to these changes. Perhaps in no other building type do broad societal concerns about the future and the needs of today's techno-savvy children coincide with design issues more than dramatically than in K-12 schools, says the exhibition's curator Thomas Mellins. The Edgeless School looks at 19 architecturally distinguished schools nationwide within the broader context of what educators are thinking about now." (A list of these schools is included at the end of this release.)
Government agencies, communities, and architects are thankfully rising to the challenge. In the past few years, K-12 schools of all kindspublic, private, parochial, urban, suburban, and ruralhave built some of the most technologically sophisticated, sustainable, and architecturally distinguished facilities in decades.
Edith Ackermann, the exhibition's Senior Research Consultant and a Visiting Scientist at MIT, says, There is much talk about 21st-century skills these days, and much research being done to redefine what todays youngsters ought to know in order to be active and successful in tomorrows world. What is less clear, however, is the built environment's role in helping children find their waysand groundsunder the conditions of this uncertainty.
In other words, how does school architecture actually accommodate todays digital natives, and how do new pedagogical theories influence the design of learning environments? When weighty Britannica gives way to wireless Wikipedia and our children have unprecedented access to raw information, what does education on an iPad look like?
Exhibition Content
Edgeless School answers these questions through the presentation of 19 new school buildings: 8 in New York City and 11 across the United States. To provide an appropriate cross-section, 10 institutions are public, 9 are private, and 2 schools are for students with special needs.
Projects are further sorted by their illustration of edgelessness inside and outside the school building. The Ethical Culture Fieldston Middle School in the Bronx, NY, for example, dissolves the distinction between the built environment and nature by embracing outdoor space and using a connection with nature as an educational tool. The L.B. Landry High School in New Orleans, LA, projects edgelessness outside the school by blurring conventional distinctions between constituencies. It achieved this by encouraging students, educators, parents, and architects to work together to create a building that is designed to further the schools pedagogical goals.
Voices of key educational theoreticians underpinning much of this century's educational dialogue will also be included through 6 videos on view, 5 of which will be on-view in a full-scale, cutting-edge classroom environment furnished by Waldners/Steelcase and Shaw. Hanging in Center's double-height mezzanine gallery will be 9 old-fashioned desks, creating a visual juxtaposition between a staple of last century's classroom and those of today. Six models of schools round out compelling architectural photography and descriptive wall text.
The Edgeless School: What Is It and What Does It Look Like? (Excerpt from the exhibition's Gallery Guide available at the Center for Architecture) While edgelessness does not translate into a specific architectural style or building program, several characteristics emerge. Often glass walls blur interior and exterior space, a distinction further modulated by the treatment of exterior spaces as outdoor classrooms. Edgelessness can manifest itself in a single space, or a series of interconnected spaces, where multiple educational activities occur at the same time, reflecting the attention patterns and organizational skills of digital natives who have grown up surrounded by technology. Edgelessness can also be expressed in the design of flexible, multiple- purpose spaces, often used in different ways throughout the course of the day. For example, school lobbies and hallways, once considered only in terms of circulation, are now taking on greater significance as meeting places for groups large and small, planned and spontaneous.
The Best School in the World: Seven Finnish Examples from the 21st Century
This related exhibition being shown at the Center for Architecture is produced and organized by the Museum of Finnish Architecture. Finnish students have been top performers in recent international learning assessments, but what is the secret behind the success of Finlands education system? The Best School in the World explores this question from an architectural perspective: in what types of environments do learning take place today and which are the most conducive for successful learning? The exhibition also examines how contemporary Finnish school architecture addresses the varied needs of todays learners and multiform teaching methods.
The Best School in the Worlds New York presentation and related events are part of the New Finnish Design CITY campaign, produced by the Consulate General of Finland and the Finnish Cultural Institute in New York. The exhibition has been traveling internationally and was most recently seen at the Embassy of Finland in Washington, DC.
The exhibitions and related programs are organized by the AIA New York Chapter and the Center for Architecture Foundation in collaboration with the AIANY Committee on Architecture for Education.
Curator: Thomas Mellins Senior Research Consultant: Edith Ackermann, Visiting Scientist, MIT School of Architecture Exhibition Design: Sage and Coombe Architects Graphic Design: Hyperakt
Special thanks to the sponsors of The Edgeless School:
Underwriters
For over 45 years Duggal has provided complete visual solutions to the worlds leading image-makers. Duggal Visual Solutions, Inc. is a leading supplier of printing, computer imaging and multimedia, wide format graphics, and display services. Duggal was incorporated in 1963 and is widely considered the nations top photo/imaging facility. The companys clientele is widely spread among top retailers, Fortune 500 corporations, museums and graphic designers. Duggals vast array of cutting-edge production equipment, 24-hour facilities and team of knowledgeable technicians stand ready to complete projects on time and on budget regardless of size or complexity. From design and production, to shipping and installation anywhere in the world, the Duggal team is dedicated to providing the highest level of service and quality.
Hyperakt is an independent New York City design firm that helps change-makers tell their stories. Our clients are organizations that address the most important social issues of our time and innovative businesses that empower people through social entrepreneurship. Hyperakt has created brand identities, websites, printed communications and data visualizations for client
Related Graphic Press Releases