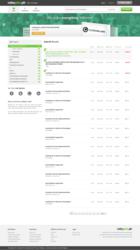 Cebu, CEB (PRWEB) November 11, 2012
Recently launched on October 8, 2012, CebuJobs.PH is an online job board that provides opportunities for career advancement and personal growth for jobseekers in Central Visayas, Philippines. Formerly known to the public as Cebutechjobs.com, CebuJobs.PH offers a variety of job openings in different industries found in Cebu. The companys strategic recent rebranding was the response to the strong demand of the market for a wider array of opportunities for jobseekers.
Through its recent rebranding, CebuJobs.PH has unveiled a new look to their new landing page aimed to solidify its position in the jobsite industry as a reliable list of jobs in Cebu. It currently stands as a freemium service to the public, where employers can post free job postings, receive applicants and purchase additional value-added tools for efficient and effective recruitment. Consecutively, jobseekers are free to sign up as members, apply for these job vacancies, and receive free job alerts.
Given the new digital ecosystem, CebuJobs.PH harnesses the power of social media and different channels to engage jobseekers in various media landscapes. Currently utilizing Facebook and Twitter, they also have other partnered blogs with a special application programming interface (API) which syndicates all job openings from the jobsite.
Ian Callet, Marketing Director of CebuJobs.PH mentions Every day, were trying to understand the psyche of jobseekers in the digital era in order to provide them more opportunities and a career that they can love doing every day. Currently, the team launched a new face to the landing page, offering more customization and branding opportunities for small, medium and big enterprises.
For more information on the features of the website, an inquiry can be sent to info(at)cebujobs(dot)ph. CebuJobs.PH also offers various opportunities for recruitment such as relationship and network building, employer branding packages, candidate research, market intelligence, and recruitment news updates via social networks, SMS, and email blasts. To know more about the latest Cebu jobs and updates, visit their website at http://www.cebujobs.ph.
About

CebuJobs.PH is owned by Clicking Labs, Inc. Clicking Labs is a well established internet marketing company founded in 2010 by Jean-Patrick Bisson, Diana Quartin and Jonathan Kennedy. The company specializes in driving search marketing and social media traffic, social web app development and conversion optimization. Each product or service specifically helps small/medium website owners increase online visibility and improve online sales.
Find More Tech Press Releases