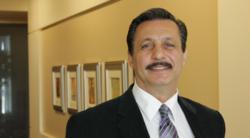 Irvine, CA (PRWEB) December 20, 2012
California Southern University is pleased to name Dr. George Sayegh Dean of the universitys School of Business. He will begin work at the university immediately.
Dr. Sayegh has a long and distinguished career in education and business. He comes to CalSouthern from Argosy University, where he served as Program Chairman for the School of Business. As a professor at a number of universitiesboth online and campus-basedDr. Sayegh has taught courses in business technology, management, finance, leadership, computer science, information systems, technology and business, critical thinking, and mathematics, among others.
Dr. Sayegh founded a successful computer and information technology companyeventually specializing in medical and institutional information systemsand also has worked for organizations including NASAs Jet Propulsion Laboratory, Hewlett-Packard, Ferranti Aerospace Missile Systems, and Wangtek Drive Systems.
Dr. Sayegh earned a Doctor of Business Administration with a concentration in Information Systems from Argosy, a Master of Science in Organizational Leadership from Mercy College, and a Bachelor of Science in Industrial Engineering from California State University, Northridge.
I am honored to accept the position as Dean of CalSoutherns School of Business, says Dr. Sayegh. CalSouthern is an institution of academic integrity and rigor, with a culture based on ethics and student support. From my first conversation with University President Dr. Caroll Ryan, it was clear that the university and I share the same values. I instantly felt at home at CalSouthern and look forward to enhancing an already-strong business school.
Outgoing Dean Dr. John Minchin will remain with the university and assume the position of Director of Institutional Research Planning and Assessment. We are thrilled to have Dr. Minchin take on this critical function, says University President Ryan. By assessing and evaluating every aspect of university operations and following through to make sure all necessary changes are made, Dr. Minchin will play a key role in driving the continuous improvement that has been and will continue to be so integral to CalSoutherns growth and success.
About CalSouthern:

Founded in 1978, California Southern University is an accredited university offering online degree programs at the associate, bachelors, masters, and doctoral levels in business, law, criminal justice, and psychology to an international student body, utilizing a proprietary learning system. CalSouthern is accredited by the Accrediting Commission of the Distance Education and Training Council. The Accrediting Commission of the Distance Education and Training Council is listed by the U.S. Department of Education as a nationally recognized accrediting agency. The Accrediting Commission of the Distance Education and Training Council is a recognized member of the Council for Higher Education Accreditation. To learn more about CalSouthern, please visit http://www.calsouthern.edu.
http://www.calsouthern.edu/content/press-releases/california-southern-university-names-new-business-dean/
Related Computer Press Releases