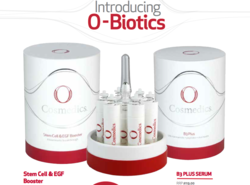 Sydney, Australia (PRWEB) November 01, 2012
O Cosmedics launches two of the most active anti-ageing serums on the market, the Anti-ageing Mechanism Stem Cell & EFG Booster and Niacinamide and Immune Booster B3 Plus in their exciting new series called O-Biotic, spring boarding off its leading core range O Comsedics.
In a world first formulation and packaging, O-Biotic is a proven biomimetic breakthrough (Bios meaning life, Mimesis to imitate). The STEM CELL & EGF BOOSTER is an innovative blend of 3 biomimetic peptides that imitate the biological conditions found in healthy skin in order to activate the cellular and epidermal growth factor activity in the skin ultimately preserving the life of the cells. Biomimetic means that the peptides have a perfect affinity with the skins own makeup which means they work with the skin to stimulate and enhance its behavior. Stem Cell & EGF Booster promotes normal skin function and cellular optimization. Decapeptide-4 stimulates stem cell proliferation, Oligopeptide-24 increases production of fibroblasts and triggers E.G.F production and Olgiopeptide-73 is the antioxidant that preserves the life of the fibroblast and acts collectively as a powerful anti-ageing mechanism. Suitable for all skin types the Stem Cell and EGF Booster will assist in the prevention and correction of skin ageing and degradation and is proven to restore skin to optimum skin health. Used daily clinical studies demonstrate dramatic improvement in lines and wrinkles, inflammation, scar tissue and wound healing, considerably increase the skins elasticity to give the skin volume and radiance. use morning and evening on clean skin.
Price: $ 129