ANECON Named TOSCA Certified Implementation Partner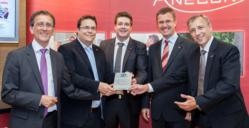 Vienna, Austria (PRWEB) November 14, 2012
TRICENTIS, a global leader in automated software testing and software test management, announces that ANECON Software Design and Beratung GmbH has met all criteria to become a TOSCA Certified Implementation Partner.
ANECON is one of the leading, medium-sized software and solution providers in Austria and offers IT software development, software testing, and project management for implementation of mission-critical IT projects. Services include project management, implementation, architecture and design, development, and testing. ANECON specializes in Agile Software Development and Testing.
ANECONs services include:

Introduction to Agile methodologies and training
Support in implementing Agile projects
Complete project delivery in eXtreme programming and SCRUM
In order to use the TOSCA testing process and offer TOSCA products, ANECON successfully completed a three-month program culminating in the presentation of a case study which solved a complex software testing problem using TOSCA process and solutions. To ensure that ANECON was prepared to implement TOSCA Testsuite for software quality assurance, TOSCA experts critiqued the case study before awarding ANECON its status as a TOSCA Certified Implementation Partner (TCIP). Today, ANECON is well equipped to extend its IT consulting services and provide more effective test case design and software test automation services. ANECONs TCIP status highlights a partnership and knowledge transfer that will yield faster time-to-market and improved ROI for automated testing.
The requirements for TOSCA certification are rigorous. TOSCA Certification Training is open only to business partners that already exhibit comprehensive expertise in professional software quality assurance. Becoming a TCIP signifies that the partner has gained high levels of test case design and test automation expertise. With test case design, ANECON customers can optimize their test cases with lower maintenance costs and better test coverage. With test automation of risk-based tests, ANECON customers achieve increased efficiency and save valuable time and effort. In fact, ANECON and TOSCA customers can now achieve up to 95% test automation coverage with 50% reduced maintenance effort.
Gartner Analysts Gilbert van der Heiden and Patrick J. Sullivan emphasize the importance of thoroughly evaluating software testing providers: From a buyer's perspective, the demand for testing services continues to remain strong. An analysis of Gartner inquiries in 2011 indicates that software testing emerged as one of the topics consistently searched for at high levels on gartner.com throughout the year. () As with many emerging services categories, service providers vary in their level of maturity, growth and investment. () When evaluating providers, ensure that you give proper weightings to the level of maturity, automation and process standardization that the provider has achieved in testing services.
Hans Schmit, CEO of ANECON, states: "Our employees are experts in agile software testing and quality assurance and our customers rely on this competence. We are delighted to intensify the cooperation between ANECON and TRICENTIS with the certification as TOSCA Certified Implementation Partner. Now we can offer more effective and precisely tailored services in the field of software testing to our customers.
ANECON and TRICENTIS represent an ideal partnership of expert consulting services along with TOSCA Testsuite innovative test management and automation. The combined partnership and expert knowledge transfer means ANECON customers can realize a faster ROI and time-to-value. ANECON is well known for their expertise in IT Project Management and Development Processes. TOSCA Testsuite provides a best practices software testing solution that enables ANECON to provide GUI and Non-GUI software testing, Mobile/Smart Device and Cross-Browser Testing to offer their customers the perfect test data. We both focus on testing excellence and there is much synergy in working together, says Wolfgang Platz, Founder and CEO of TRICENTIS.
About ANECON

Founded in 1998, ANECON Software Design und Beratung GmbH is one of the leading, medium-sized software companies and solution providers in Austria. In 2010 a subsidiary in Dresden, Germany was founded. With corporate headquarters in Dresden, ANECON develops innovative custom software solutions, is a market leader in software testing, and provides quality IT consulting and training, project management process, product development, and consulting expertise. ANECON customers represent such diverse industries as banking, insurance, telecommunications and government. Founded in 1998, ANECON has grown to 110 employees focused on communication, problem solving, and alignment with the customers goals and future plans. The result of the customer focus is sustainable, future-proof solutions that fit perfectly into the clients organization.
About TRICENTIS

Since 1997, TRICENTIS offers cross-industry expertise in all aspects of functional software testing and quality assurance. With TOSCA Testsuite, TRICENTIS has developed an innovative and technically superior solution for automated software testing and software test management. With TOSCA non-technical users can quickly create automated business test cases in plain English and configure them for multiple platforms. TOSCA offers smart device testing, GUI and Non-GUI software testing, certified integration for SAP software testing and much more. Over 300 customers worldwide rely on the expertise of our consultants and the performance of TOSCA Testsuite. TOSCA is ideal for industries with workflow business processes such as in Banking, Insurance, Financial Services, High Tech, Telecom, Manufacturing, Retail, Healthcare, Utilities, Public Sector and other leading industries requiring the highest quality of software testing. For more information or a free demo, trial or workshop, please visit us at http://www.gotosca.com.
Winner of Best in Test Award, 2012

ASP Award The Years Ten Best Web Support Sites, 2012

Winner of R.E.C.S.S. (Recognition of Excellence in Customer Support and Service), 2011
Contact

Britta Steele, Chief Marketing Officer

E-Mail: b.steele (at) tricentis (dot) com

TRICENTIS

Leonard-Bernstein-Strasse 10

1220 Wien

Austria

Tel. +43 (1) 263 24 09 – 0

Fax +43 (1) 263 24 09 15

Internet: http://www.gotosca.com
TRICENTIS