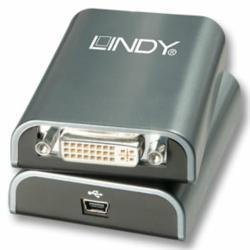 Athens, Alabama (PRWEB) October 07, 2012
Lindy USA adds new USB to DVI adapter to its offering. This USB to DVI adapter enables users to connect numerous monitors to PCs or notebooks through a USB port or USB hub. Using the USB port to connect a monitor makes it easier to connect multi-screens, creating a wider screen area for tools and palettes and enables users the ability to multi-task with better efficiency with no need to overlap windows.
DVI-D and VGA connections are supported by the Lindy USB to DVI adapter. The adapter gives users more versatility connecting a range of monitors, projectors, or LCDs using the computers USB 2.0 port. You can extend your Windows desktop to as many as six monitors with bus power.
It is no longer required that you have to open up your PC to install graphics cards with all the hassle that brings; not even an option with netbooks and laptops. It is faster and easier than ever for users to benefit from Lindys latest adapter which allows them to add extra displays with its easy to carry, compact size.
High resolutions monitors like WUXGA (1920x1200) and 1080p are supported when streaming video. The user can also add and remove monitors without having to reboot the system. Additionally, monitors resume easily from suspend and hibernation modes.
LINDY USA specializes in Cables, Adapters, Electronics and Accessories for Computer, Networking and Audio Video Applications. Since 1932 Lindy has supplied high quality interconnects to customers in commercial, telecom and residential markets.
For more information, visit http://www.lindy-usa.com, or call 888-865-4639.