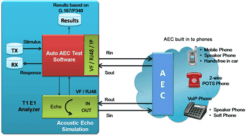 Gaithersburg, Maryland (PRWEB) October 09, 2012
Gaithersburg, Maryland, USA -October 08, 2012- GL Communications Inc. a leader in providing PC-based test, analysis and simulation products and consulting services to the worldwide telecommunications industry, conveyed today the availability of its Acoustic Echo Compliance Test Software per G.167 and P.340 standards.
Speaking to media persons, Mr. Robert Bichefsky Senior Manager of Product Development of the company said, Acoustic echo is a common phenomenon that is encountered in many types of phone calls. It occurs when speaker output is fed back to the microphone input. This will disturb the far end speaker as they hear their own voice but delayed. Acoustic echo cancellers (AEC) are used in phones or in the network to minimize this distortion. Acoustic echo, unlike line echo, is dynamic during a call as people and speakers move about.
He added, GL's Automated Acoustic Echo Cancellation (AEC) Compliance Test Software is a feature rich application used to perform acoustic echo cancellation testing in accordance with ITU-T Specifications, G.167 and P.340. The Software uses GL Communications' T1 E1 Analyzer products and the customers AEC hardware or software to perform Acoustic Echo Canceller testing. Rin and Sin files (stimulus and echo) are prepared by Automated AEC Test software in accordance with user inputs. Rout and Sout are captured and processed.
Mr. Bichefsky further added, Automated Acoustic Echo Cancellation (AEC) test software works in conjunction with our T1 E1 product platforms, including USB T1 E1 Analyzer and Universal T1 E1 Cards. Automated AEC Test Software performs a full analysis (with detailed displays) that results in a "Pass" or "Fail. Automated AEC testing concepts are implemented within the software for various End to End Applications (Mobile, TDM, and VoIP) scenarios.
Important Features