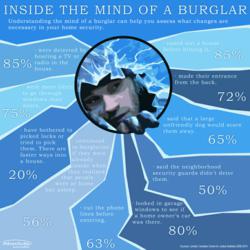 (PRWEB) October 02, 2012
In this first info graphic from Absolute Automation Inside the Mind of a Burglar, info graphic researcher Renee Laurin relayed statistics detailing the average conceptual burglars state of mind at the time of robbery. This particular info graphic is aimed at helping consumers understand where the weak points in their security system are from an outside perspective.
Absolute Automation Inc. marketing manager Nathan McBride reports, Wed noticed a lot of customers calling in, not really sure what the best way to protect themselves and their property was, which was leading to purchases they didnt feel 100% confident in achieving the security results they had in mind. With this info graphic series, were hoping to help customers and home owners make educated purchases to achieve their home protection goals.
McBride believes that info graphics are one of the most effective methods at delivering information quickly and efficiently to consumers. The compact and visual presentation allows readers to quickly grasp the key points and leave with a better understanding of the facts. Long blog articles or other forms of communication seem not to have the same impact on readers as visual representations such as info graphics.
Laurin shows that 85% of burglars reported having been deterred from breaking into a home which had a television set or radio on. This information is quickly viewable at the top of the display for viewers to assess. She also goes on to show that 85% of burglars cased out a home before hitting it. Laurin comments, These types of statistics are not known to the average homeowner, and we felt that visually seeing some of these sobering facts would be beneficial. While home owners cannot prevent criminals from scouting out their homes or looking to burglarize, they can be better informed on what to keep an eye out for. Being better informed means homeowners can make safer security choices in their own homes.
The infographic also shows that 75% of burglars accessed the home through the window as opposed to the door, McBride says, This helps to show that while having a heavy door and dead bolt is important, realistically it will not stop most burglars. However simple window break sensors, or motion sensors inside the home can be easily programmed into an alarm system to sound both local alarms or sirens and to scare the intruder away or call out to neighbors, an alarm company etc.
Absolute Automation has been in the home security industry since 1995. Specializing in DIY security systems, security cameras and other home automation or security equipment Absolute Automation Inc. offers free technical support on all of their products and most orders are eligible for free shipping.
Related Graphic Press Releases